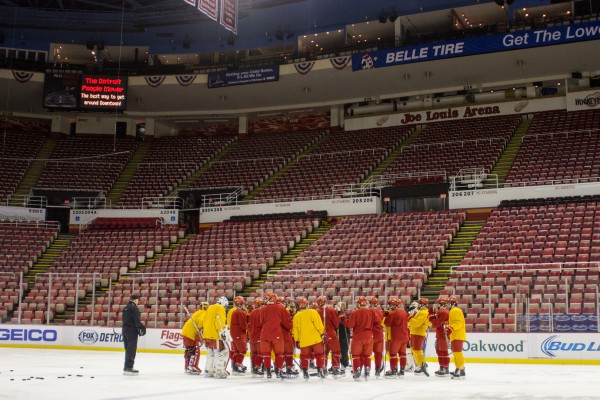 The house lights dimmed at Joe Louis Arena, casting a shadow over the uncleaned and empty ice.
Ferris players milled around the locker room hall ways in the bowels of the Joe, scarfing down chocolate milk and staring at the wall that bore hundreds of names. Steve Yzerman, Sergei Fedorov, Nick Lidstrom, Gordie Howe, Terry Sawchuk, Dominik Hasek, Chris Osgood, and Darren McCarty amongst hundreds of others lay in peeling paint staring back at the wide-eyed hockey team.
48 times before, the home of the Detroit Red Wings has played host to the Great Lakes Invitational. Last year, Comerica Park, home of the Detroit Tigers hosted it outdoors. In more ancient times (Ancient being more than 35 years ago) the old Olympia Stadium in Detroit hosted the GLI.
For the first time ever, Ferris State will take the ice in one of college hockey's premier tournaments. The Michigan State Spartans have been here and won this tournament before, and will play opposition to Ferris tonight at 7:06 p.m.
Ferris is 1-1 this year against Michigan State. More important may be the conference implications for the 9-7-1 Bulldog hockey squad.
Tournament founder and host Michigan Tech is nationally ranked no. 5 in the country. The Huskies lambasted their opponents, the Michigan Wolverines, twice this season.
I like to play the "What if" game. It's sort of a curse. So what if Ferris and Michigan Tech both advanced? What if the WCHA saw their top teams sparring for the GLI? Does that make the WCHA superior to the Big Ten?
The WCHA has killed the Big Ten this season. WCHA teams are 10-5-2 against Big Ten teams this season, and Ferris is 2-1 against them. Even more compelling, the WCHA is 3-0-1 on neutral ice against the Big Ten. Joe Louis Arena qualifies as neutral ice.
Regardless, the Dawgs come in riding a small wave of momentum after they swept Lake Superior State on December 12-13 in Big Rapids. Leading goal scorer and sophomore forward Chad McDonald is returning to play after missing the series with a separated shoulder.
Michigan Tech will take on Michigan at 3:30 p.m. in the tournament opener.