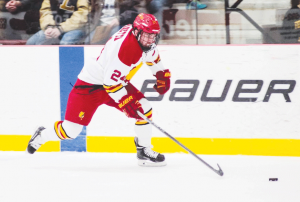 After a pair of stops in the far north to play a series at both Alaska and Alaska-Anchorage, the Bulldogs are finally set to play before their home crowd against the rival Minnesota State Mavericks after a long stretch on the road.
The Dawgs had their struggles with Minnesota State last season, and it gets no easier this year. The Mavericks come in as the nation's no. 1 team. Ferris went 0-3 last season against Minnesota State in games that saw full-out brawling and the WCHA title game.
Such a prolonged dead period in Ewigleben Arena has students and players feeling restless. However, this weekend, the seats will be dusted off and the Dawgs will take home ice for the first time in over a month.
"Anytime you get to play at home in front of our home crowd is exciting. We only have three home series' this second half of the year so we have to take advantage of it. That as well as the rivalry that's been created with Minnesota State makes this one a big series. It's one that we will have to go through if we want a shot at the WCHA Title," said junior defenseman Simon Denis.
It is no secret that the Bulldogs have faced some difficulty finding the back of the net this season. Ferris State has failed to score at least three goals in 13 games this year, which has resulted in coming up on the losing side of several close, winnable games. Still, these shortcomings have done little to dampen the Bulldogs' dreams of a WCHA Title.
"We still have the same goals as we did in the beginning of the season. We're confident in the team that we have and we still have the ability to reach those goals. It's not time to panic by any means," Denis said.
Meanwhile, the Mavericks have been nothing short of dominant on the offensive side, scoring fewer than 3 goals only four times thus far, and their 16-4-1 overall record is testament to their offensive success.
Minnesota State's defense is also talented, yet they've relented goals in all but three of their games this season.
For the first time ever, the Mavericks are the nation's top team. The WCHA itself has been tough, as three teams are in the top 11 in the national rankings. Ferris started the season ranked but fell quickly from their high spot.
"Not to mention we also play back-to-back weekends against Bowling Green right after, both of which are great teams having great years so we know it's going to be a battle, but it's one that we're looking forward to," Denis said. "We're focusing on the games one at a time and it all starts on Friday. Momentum at this point in the year is crucial and it's definitely something that we are looking to get."
The puck will drop in Ewigleben at 7:07 p.m. this Friday to begin the four-game gauntlet against Minnesota State.