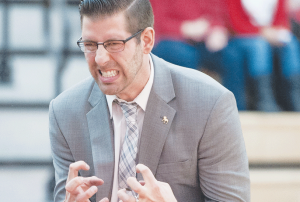 This week I heard a quote from the head coach of the Ferris State men's basketball team, Andy Bronkema, that really had me thinking about the year the student athletes at this university have had.
"It's a good time to be a Bulldog," said Bronkema.
Sure, it's easy for him to say that as he has his squad off to a terrific start early on in the year, with a 12-2 overall record that includes an impressive 8-0 mark in GLIAC play. But he's right, it really is a great time to be a Bulldog, maybe better than it has ever been.
The men's basketball team isn't the only team finding success in these winter months, as the women's basketball team has posted a 7-4 record early on, with a 5-3 record in GLIAC competition.
Now let's rewind a bit back to the fall, where both the Ferris State football team and volleyball teams took home GLIAC Championships, with the volleyball squad gathering both a regular season and tournament championship.
Junior outside hitter Megan Vander Meer became the 15th All-America selection in program history for the Dawg's volleyball team, as she led the team in kills with 316 and included 255 digs and 47 blocks.
Of course, we can't forget about the Ferris State football team, which marked its first 11-0 record in school history and earned a first round bye in the Division II NCAA Playoff. The Bulldog's had the best football season in school history, and were lead by junior quarterback Jason Vander Laan.
Vander Laan racked up the off season accolades, as he took home All-America honors, as well as the Harlon Hill trophy, as he was recognized as the best player in Division II football. The Bulldog's signal caller became the first student athlete in the program's history to snag the coveted trophy. Vander Laan passed for 2,381 yards and 30 touchdowns this season, as he lead the country in passing efficiency at 177.8 in the 11 regular season games. He also ranked as the nation's top rushing quarterback and at college football levels rushing for an astounding 1,466 yards and 20 touchdowns.
All I'm saying is, when you put everything in perspective and really sit down to look at the numbers, records, and success of the student athletes here at Ferris State, they truly speak for themselves.
With classes starting back up and the students getting back to campus to enjoy our brand new, University Center in the heart of campus, I think we can all agree with Ferris State head basketball coach Andy Bronkema. It's a good time to be a Bulldog.