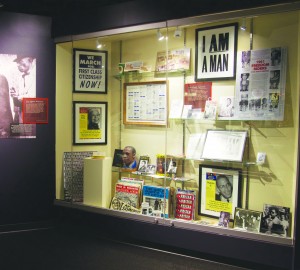 One Ferris student is working hard to bring Ferris the Tunnel of Oppression exhibit to celebrate Martin Luther King Jr. Day.
"MLK Day should be a time that we learn more about what pushed Dr. King to become a national symbol for civil rights," said Kate Van Ness, Hall Director of Hallisy & Vandercook. "The movement produced massive social reforms for many, many people in the U.S. and I think we've forgotten some parts of history."
The Tunnel of Oppression is an interactive exhibit that reminds students of the oppression, privilege, and power characterized by the Civil Rights Movement.
Van Ness is the primary contact for the Housing and Residence Life Harmony Project. The Tunnel of Oppression is one of the impactful events hosted by the Harmony Project, which also put on the He. She. Us. exhibit on gender last year.
"The workload for each Harmony event tends to be quite heavy," said Van Ness. "We spend the first few weeks of each year planning what topics we want to bring to the campus' attention, then we plan when and where we want to do the exhibits, then we start researching various topics that fit under the umbrella topic."
The Harmony Project constructs "flash museums" in which they hang up paper walls and put up information and other visuals in existing study lounges, basements, or other areas.
"My mission with the Tunnel is to show that there is a long history of oppressing people in this country and that the echoes of history are affecting our present," said Van Ness.
The Harmony Project committee also aims to highlight that things are better for some groups, yet some are worse for others. The exhibit will also address some of the on-going equality struggles and issues that make the news today.
"The people involved with Harmony Project chose topics that are important to them to learn more about and to talk about to the campus," said Van Ness. "The things we all chose to address are all deeply personal to us, so I hope that people remember that we do exhibits because the issues are passions for us."
Van Ness' goal with the Tunnel of Oppression is to for students to recognize the progress that's been made toward equality, and the progress that still needs to be made.
"I hope the attendees leave wanting to do more or learn more about what we present to them," she said.
The Tunnel of Oppression will take place Monday, Jan. 19 through Wednesday, Jan. 21 from 11 a.m. to 6 p.m. in the Ward Hall basement.
Attendees will have the chance to discuss their impressions from the Tunnel of Oppression at the Tunnel Talkback discussion on Wednesday, Jan. 21 from 5 to 6 p.m.