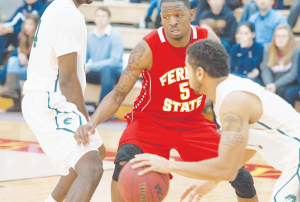 Countless things in life don't occur without complication, and redshirt junior forward James Chappell has overcome plenty of complications while working tirelessly to suit up for the Ferris State Bulldogs
Despite wowing Head Coach Andy Bronkema through his play in high school, Chappell was finding it difficult to qualify academically to play for Bronkema's Bulldogs, so he was forced to find a new venue to continue his basketball career.
"Coach Bronkema was one of my top recruiters in high school. He seemed really into me as a player, so I took interest in Ferris," Chappell said. "I took the ACT a few times and couldn't quite qualify for D-2 ball, so I was forced to go another route. Community college was the next best step for me, so I went there to play ball, but Coach Bronkema even stuck with me through that."
Eventually, Chappell was able to overcome his academic barriers and make the jump to division-2 basketball, and was ready to take on the challenge of adjusting to a higher level of play.
"In my eyes, basketball is basketball. What I did was kept playing my game and doing the things that I like to do," said Chappell. "There were some things that I had to get better at like weightlifting, becoming more coachable, and just simple areas of my game, but Coach Bronkema, Coach Lake, and my team have helped me through it all."
Just when it seemed like Chappell had finally reached his destination, fate tested him once again.
"Well last year in practice I tore my hamstring. I tried to go on it for about three games, but then decided that it would be best to let it heal before I get back on the court. Kara the trainer took good care of me with rehab by helping me take the proper steps to gain the strength back in my thigh and get back on the court. Though for a while it seemed like rehab was never going to end."
After the lengthy rehabbing process kept him out of much of last season, Chappell was left with feelings of both motivation and appreciation, and besides all of that, he was anxious to get back to playing basketball.
"It feels good to finally be in this position academically and physically. The injury set me back, but it couldn't keep me from progressing, and I'm thanking the man upstairs for it all."
A healthy Chappell's presence on the court has helped the Bulldogs to build a 14-2 overall record, a #19 spot in the nationwide rankings according to the NABC Coaches Poll, and a spot on top of the GLIAC shared by Saginaw Valley State who, like the Bulldogs, boasts a perfect 10-0 conference record.
"I think as players we knew what we were capable of doing, so we've just been trying to play to the best of our ability. We have been doing so and the outcome has been great so far."
Chappell and the rest of the Bulldogs have been tearing through the competition while showing no signs of slowing down as they look to add to their 14-game winning streak. Their next opportunity to do so will be tomorrow at 8:00 p.m. when they take on Northwood in Wink Arena.