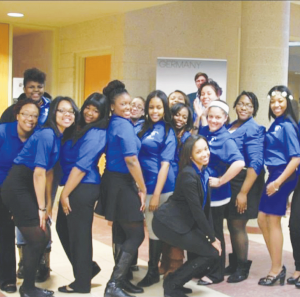 You Beautiful Black Woman (YBBW) aims to help ease the stress and tension of feeling alone on campus with their multicultural organization.
College can be a frightening experience, especially when you don't know what kind of people and personalities you're going to encounter and spend the next 2 to 4 years with.
Finding groups that make you feel welcome can be a daunting task, and YBBW aspires to make the process easier.
"YBBW is a resource for all women on campus, particularly minorities. We aim to help fill in roles that the university might not offer," YBBW President and Elementary Education senior Chelsea Carpenter said.
You Beautiful Black Woman is one of the largest social organizations on campus and is also connected to chapters at other colleges and universities.
"We consider ourselves to be a close-knit sisterhood," Carpenter said. "While we do like to have fun and joke around, we also handle matters of business so be prepared to really get involved."
YBBW is participating in the Freedom March on Dr. Martin Luther King Jr. day, which is a walk starting at the University Center and ending at the Williams Auditorium for a 5-star presentation.
There will be an event dedicated to showing respect for Dr. King including skits, poems, and songs on Wednesday, Jan. 21.
"I've been going to YBBW events since my freshman year, and I decided I wanted to be a part of the group and get involved," Integrated Studies senior Abrina Hudson said. "Joining [YBBW] has proven to be a great experience so far. I definitely have to do some time management between homework and YBBW events, but I love the organization and what it brings to our campus."
The organization is also hosting a fashion show on April 18 in the multipurpose room in the University Center featuring the theme "The Evolution of Fashion."
"I joined YBBW because I noticed that they did a lot of great networking on campus, both educational and social. I wanted to be a part of that," Criminal Justice senior Jazmine Goode said. "I like being around such strong minded young women and putting together events for us and the campus."
You Beautiful Black Woman has a history of putting on important events for the university that have evolved into a tradition for the group.
"YBBW is essential because as a group we create events that the students look forward to, and gives them a chance to relax while having some fun," Goode said.
The organization is hosting a meet and greet event on Jan. 27 at 11 a.m. You Beautiful Black Woman is housed by the Office of Multicultural Student Services at Ferris and meets weekly at Flite.