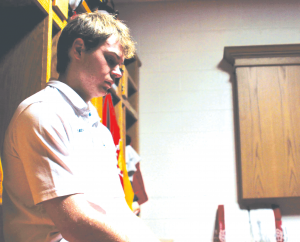 In the loneliest place on any ice rink, Ferris hockey's senior and captain has carved out a legendary career in college hockey since the 2011-12 season when he came on as a back-up to All-American Taylor Nelson.
CJ Motte has stood in between the pipes for the Bulldogs since his freshman season in 2011-12 in which he appeared in 12 contests. In that first season, he held a record of 5-5-2 with a 1.98 goals-against average and a .925 save percentage. His sophomore season inked a 15-15 record with a 2.19 goals against average and a .923 save percentage.
The senior captain's best season in the Bulldog uniform came last season, in which Motte was named a Top 10 Hobey Baker Award National Finalist, an award which is given to the top player in collegiate hockey. More of his accolades for the 2013-14 season included being named the WCHA Preseason Player of the Year, Ferris State Athletics Dean Davenport "Bulldog of the Year" award winner, a five time WCHA Player of the Week, and being chosen the National College Hockey Player of the month of December. Motte posted a 28-9-3 record during his junior campaign, with a .928 save percentage, a 2.17 goals against average and five shutouts.
Dave Cencer, the Bulldog's strength and conditioning coach and video coordinator, is in his ninth year as a member of the Ferris State staff and works heavily with Motte in game film sessions and workouts. Cencer says Motte's talent has always been there, but the way he has improved as a leader has been crucial to the success during his career
"He's come a long way, he's a very talented goalie just in terms of natural talent. Right away when he was playing junior hockey and when he started here you could recognize the fact that he had exceptional talent," said Cencer. ""A big part of his leadership is just the way he plays, day in and day out. He comes prepared and he comes to play, and he brings that same work ethic into the weight room when we do off ice workouts and the same onto the ice with is preparation for games. With CJ it's not necessarily one of those things where he has to stand up and be a cheerleader, he's our captain and he's our leader based on leading by example. He approaches the game very business-like and very seriously and that reflects in his play and with his progress in the last four years here."
So far during his senior season, Motte has a record of 11-13-1 with the Dawgs, with an impressive 2.02 goals against average, a .927 save percentage, and four shutouts.
Cencer noted that he believes that Motte has the talent to be extremely successful at the next level in playing professional hockey, but also believes it is something that isn't really crossing the goaltender's mind at the moment.
"The good thing about CJ is that he's such a team first kind of guy. His biggest thing right now is having success right now with his teammates here at Ferris," said Cencer. "Certainly he does have the ability, last summer he went to an NHL prospect development camp with Montreal and that was a great experience for him to be able to go up there and see some of that competition. At the end of the day, I know he's worried about right now, but there is interest out there. Throughout the course of this year, I would think that probably all 30 NHL teams will be here to look at him. He's definitely a goaltender that I think could have a great pro career and especially with the work ethic he has and the attitude that he brings, I could see him setting himself up for success down the line with just his personality tributes."
Taylor Nelson, a former All-American goaltender for the Bulldog's, played with Motte as a senior and has come back as a volunteer assistant coach where he has been working closely with Motte.
"He's a very cerebral guy, thinks the game well, thinks the position well and that's what makes him such a good goalie. It's not just about him, it's about everyone that's around him. He just thinks the game really well," Nelson said. "The fact that I played with CJ for a year here, you know how the kid plays and it's nice to be able to work with him and just talk the position. We'll sit down and watch all of CJ's touches from the previous night, and if we sit down and see some tendencies, we'll talk and let him know and let him know what those other tendencies are from the other team in the offensive zone and things that he can do with his fore checking, because he does play the puck so well."
Motte and the Bulldog's will look to get revenge in their next weekend series on Jan. 30-31, as they will travel to play the number one team in the nation once again in Minnesota State. The Dawg's dropped the weekend series last weekend to the Mavericks and will look to pick up two more wins in the WCHA standings. Puck drop is slated for 8:07 p.m. both nights.