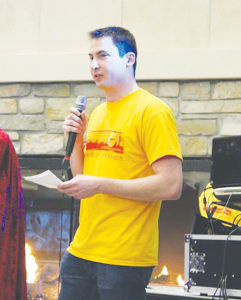 This academic year, Student government has nearly doubled its membership. Student Government currently has representatives serving 29 external entities on campus and in the Big Rapids community.
Since the fall 2014 semester, Student Government has added representation in 9 external entities including the Campus Community Task Force, Beyond Diversity Committee and the Student Leadership and Activities Advisory Council.
"We're the central entity for all students, organizations and colleges across campus," says Andrew Kalinowski, Student Government President.
Kalinowski, a Stevensville native double-majoring in professional golf management and accounting, is currently serving his second term as Student Government President. Kalinowski explains the direction of his administration this year.
"Our focus is known as 'IOU.' Inclusivity, opportunity and unity," says Kalinowski. "This year, we've been focusing on increasing student representation; making sure we have more students in Student Government representing the student body."
Kalinowski added, "That way we have more of a network to process information across the student body and to provide more collaboration opportunities."
Student Government Vice President Wayne Bersano explains that a requirement of Student Government membership is to represent and report on at least one organization.
"[Representatives] will go to meetings and share their input and ideas," says Bersano, a sophomore in hotel and restaurant management from Pinconning. "They'll come back to Student Government and share a report on what was discussed and what changes may be happening."
Bersano added that another objective of Student Government this year has been to develop a relationship with Big Rapids City Hall. Representatives from City Hall have been periodically attending Student Government meetings and vice versa.
As for Student Government's relationship with University administrators, Kalinowski feels that he is heard when he voices a concern. He shared, for example, how administrators approached Student Government directly when designing the new University Center. Student Government gave input on food choices in the cafeteria as well as their ideas for a commuter student lounge.
Kalinowski and Bersano both stressed that students should try to get involved, whether it be through attending meetings or joining.
"Student Government is such a useful tool for people to develop leadership skills," says Bersano. "It's like a big family. You'll have so many opportunities to meet and network with different people across campus that are well educated and informed."
"If a student wants to see something get done, they can come to Student Government and get in contact with a representative and make that change happen," says Kalinowski. "Giving us input allows us to fix that problem."
In addition to Kalinowski and Bersano, the Student Government executive board also includes Dylan Carpenter, Parliamentarian; Chauntel Wooten, Director of Internal Assessment; Corey Saladin, Director of Public Relations; Haley Lomba, Director of Operations; Benjamin Brackett, Treasurer; Carman Plank, Director of Finance; and Danielle Murphy, Administrative Assistant.
Student Government's goal is to grow from 40 to 60 members by semester's end. Meetings are held every Monday at 6:00 p.m. in the University Center room 202.