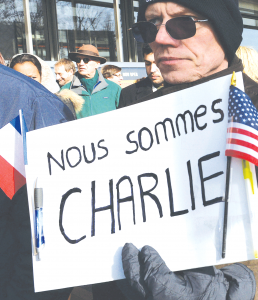 Igniting a chaotic timeline of events, two masked gunmen stormed into the offices of the Paris satirical weekly newspaper Charlie Hebdo, killing 12 people; the paper's editor, several cartoonists and two policemen among them. The shooting went down as one of the deadliest attacks on postwar France.
Reports indicate that these Islamic terrorists were targeting specific Charlie Hebdo employees for having published crude depictions of the Prophet Muhammad. The gunmen fled the scene in a black Citroen vehicle, opening fire on French law enforcement who blocked their way.
Ferris professor of French Daniel Noren conducts study abroad tours to France and has been there over a dozen times, having lived in Southern France in 1983.
Noren contends that the underlying tension of the Charlie Hebdo shooting comes from conflict between France and Algeria. He's noticed a large anti-arab sentiment in France that has existed since Algeria gained their independence from France in 1962.
"After independence, a lot of Algerians wanted to move to France because life was better there," says Noren. "But as they moved to France, a lot of them got marginalized. They are Islamic and the French are traditionally Catholic, so there are two very different cultures and traditions."
As for Charlie Hebdo's content and how it caused a shooting, Noren sort of understands.
"In my opinion, they have taken the freedom of press too far. They've made some downright obscene cartoons," says Noren. "They're pushing the envelope. But to kill over it? No, that's totally wrong."
Following a meticulous three-day manhunt, police located the gunmen at a print shop about 20 miles from Paris. After a long standoff, police shot down both gunmen, Islamic militant brothers Cherif and Said Kouachi.
Meanwhile, back in Paris, a third gunman now known to be working with the Kouachi brothers, Amedy Coulibaly had overrun a kosher supermarket, holding 15 people hostage. The day prior, Coulibaly had shot and killed a policewoman.
Moments after the siege of the Kouachi brothers, police forces took back control of the supermarket, shooting dead Coulibaly. 4 of Coulibaly's 15 hostages were found dead.
In defense of free speech, rallies and gatherings have sprung up in metropolitan areas across France. Post-modern protesters were seen waving "I am Charlie" signs.
The controversial cartoons associated with the Charlie Hebdo shooting seem to have sparked a free speech debate across the world, with Pope Francis suggesting, "You cannot provoke. You cannot insult the faith of others."
Noren, however, sees both sides of the argument.
"The fundamentals of the French Revolution are, you can say what you want to say," says Noren. "You can tell the King to go jump in a lake and that's okay, which is what Voltaire essentially accomplished in his 'Lettres Philosophiques.' The average French person does not trust any kind of organized and state-sanctioned religion."