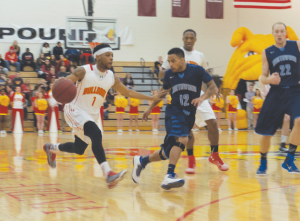 Since the beginning of the season, the Bulldogs and Cardinals of Saginaw Valley State have been battling for supremacy over the Northern Division and the GLIAC throne.
Both teams have had seemingly parallel seasons thus far, as they raced to an unbeaten 11-0 conference record before both losing on the same night to drop that record to 11-1. However, unlike parallel lines, these teams are scheduled to meet on Jan. 31 to finally settle who will stand atop the GLIAC.
After a rocky season last year, the Bulldogs have made a seemingly miraculous turnaround. They've already topped their overall record of 10-16 last year, and there are still plenty of games to be played to further improve that record.
"We really weren't that far off last year, so this year we've just tweaked a few things, brought a few guys back from injury and we've been doing some really great things on the court," says Head Basketball Coach Andy Bronkema. "It doesn't feel much different to lose ten in a row last season and now win fifteen in a row this season. We're still just attacking it the best way we know how and thinking about the next game."
The Cardinals also suffered through a comparably poor season last year, posting an overall record of 9-17, which included a pair of losses to the Bulldogs. Yet just as the Bulldogs managed to improve dramatically his year, so too has SVSU.
"It's nice to win, but in reality we've still got a lot of conference games to go, and here in the North Division it's just going to keep getting tougher," says junior forward Jared Stolicker.
There is a good chance that Stolicker had SVSU on the mind as he considered stiff competition within the Bulldog's division.
In addition to Ferris State's win total being on the rise from last season, fan attendance for Bulldog home games has also been increasing with the team's success.
Last year, the average attendance for Ferris State home games was 769 people. Now, in the Bulldogs' last two home games, 1,150 and 1,300 fans packed the arena.
"It's great to see a big crowd at home. We've been dreaming of getting it rolling so that we can pack the house everyday for every game. People have been enjoying our team because they share a piece of it," says Bronkema. "These aren't just people in the crowd, they're fellow students, community members and friends, so we really appreciate the crowd."
Ferris State has one more conference foe to get through before reaching SVSU, as they host Hillsdale College in Wink Arena at 8:00 p.m. tomorrow. Following that game, they will head to Saginaw to tipoff at 3:00 p.m. on Saturday.