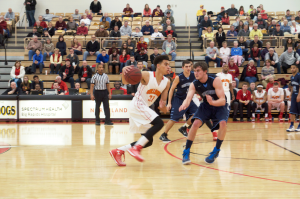 The Ferris State men's basketball team is 18 games into their season. Eighteen games in which 15 wins were rattled off right in a row. Pretty impressive for the nationally ranked Bulldogs.
Despite the loss on Saturday afternoon to the Lake Superior State Lakers, the Dawgs are still poised for a share of the GLIAC lead with Saginaw Valley State. Both teams post an 11-1 conference record, with a face-off between the two looming on Jan. 31 in Saginaw.
With the match-up in sight for the Bulldogs, it's important for this team to not look too far ahead and to focus on the task at hand, which first comes a showdown at home against Hillsdale on Jan. 29. Hillsdale has been a middle of the pack team so far this season, posting a 9-7 overall record which includes a GLIAC record of 7-5, which is tied for fifth in the conference.
After a tough loss Saturday to the Lakers and a huge matchup against Saginaw Valley State this weekend, it can be easy to overlook games like Thursday evenings. If the Dawgs want any chance of a GLIAC Championship this season, one like the football team and volleyball teams took home this fall, looking ahead to Saturday is something that will have to wait until after the decision on Thursday.
The good thing for the Bulldogs, leadership has been a huge portion of the team's success so far this season. With that leadership, I don't think the Bulldogs will have any problems staying focused on the ultimate goal. With senior leadership like guard Drew Lehman brings, and the focus and passion to execute to perfection that head coach Andy Bronkema brings, this team should have no problem finding success in the upcoming contests.
All I'm saying is, focus will be key for the Ferris State men's basketball team from this point of the season and on. The team has proved they have the talent and determination to win a GLIAC Championship, now they just have to go out there and get it. Night after night, go out and execute to bring another GLIAC Championship back to Big Rapids.