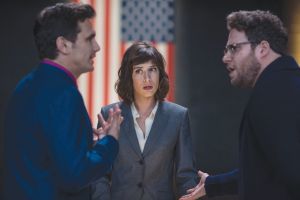 I saw a film last week…oh boy.
Seth Rogen and James Franco's "The Interview" proved not to be the cinematic "little engine that could" when theater owners pulled the film from screens nation wide. However, the movie was shortly after released via streaming and purchase from YouTube, leading this critic to label it "the little movie that shouldn't have."
I refuse to believe that fiasco caused by this movie is the work of a few brilliant marketing folks over at Sony who knew that making this film a forbidden fruit as it were would be the only way "The Interview" would maintain it's relevancy past opening weekend. After all, patriotic duty was the only way I was ever going to invest either time or money into this.
Everybody involved in this should feel a significant level of shame. Sony for thinking this was a good idea, Rogen and Franco for thinking this was funny, and Kim Jong-Un for thinking this was even worth paying attention to. In short, this movie is unfunny and boring. So let's talk about politics.
Is it right to allow a movie about assassinating a head of state-a comedy, no less-if the person in question is someone we don't like. Thought experiment: if North Korea made a comedy about assassinating Barack Obama what would the discussion be? I mean, hey, they're entitled to free speech to, no? No? Okay then, whatever you say.