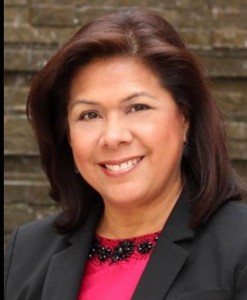 Ana Ramirez-Saenz began an 8-year term on the Board of Trustees in January. She was appointed by Governor Rick Snyder. Ramirez-Saenz is CEO and owner of La Fuente Consulting LLC.
Torch: What interests you about committing your time and energy to Ferris State University?
Ana Ramirez-Saenz: It was an honor just to be appointed. As I look at all the effort Ferris has done and the things they have been able to accomplish, it is an organization that is intent on driving Diversity and Inclusion at all levels. It is an exciting time for Ferris as they position themselves for growth in all areas and it's a great opportunity for me to be part of it.
Torch: What kind of work does La Fuente Consulting do?
Ramirez: La Fuente Consulting has been in business since 2000 and we operate in 3 primary areas. One is strategic planning for diversity and inclusion. I work with executive management and CEO's to help set a vision and strategy for diversity and inclusion that is part of the overall organizational objectives; and is the largest practice area. The second is multicultural training, developing customized programs that will assist in creating effective work environments, enhancing relationships built on trust and improving cross cultural communication so that folks can focus on driving business results together. The third piece is providing translation and interpretation services for medical, legal and business environments.
Torch: How do you hope to use your expertise in diversity and inclusion to benefit both the Office of International Education and our diverse student body?
Ramirez: Ferris has done some very innovative things and I would welcome the opportunity to first learn at a deeper level what they are doing, what their goals and objectives are and be a resource. In the long term, as Ferris continues its efforts, it would be important to continue building collaboration between all facets of the university to increase not only a diverse student body but also faculty, who truly are at the forefront of impacting diversity and inclusion in the classroom.
Torch: You were appointed by the governor, have you had any contact with him? How did the appointment process work?
Ramirez: I have had contact with his office and the person that is in charge of managing those appointments, yes. They were very diligent in terms of making sure the information I needed got to me. It was really very effective.
Torch: When you're not being a board member or running a company, how do you like to relax?
Ramirez: In addition to spending time with my family and facetiming as much as I can with my 3 1/2 year old grandson. I like to read, I read a lot of Latin American authors. I attempt to play golf; skills need improvement, but I do like it. I'm a bird watcher, so I love doing that.