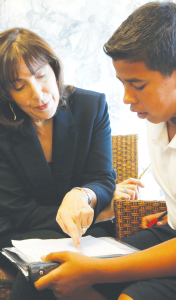 As January comes to an end, Mentor Awareness Month will continue to be recognized with two more events.
On Thursday, Jan. 29 the SCHOLAR Peer Mentor Program will be hosting a guest speaker at the Mentor Appreciation Reception, which will take place at 11 a.m. in University Center 217. Minister Carnel H.L. Richardson, Ferris Alumni and motivational speaker, will be presenting.
To finish the month, mentors and mentees can participate in the "Mentor Bulldog Challenge" on Saturday, Jan. 31. In this challenge the pairs of mentors and mentees will try to locate as many of the bulldog statues around town as they can, take a photo with it and then upload it to the Peer Mentor Program's Facebook page. First place winners will receive a prize.
"The SCHOLAR Peer Mentor Program pairs sophomore, junior and senior student mentors with first-year students- mentees. The program strives to help first-year students meet their educational goals and make their college experience exciting and fulfilling," said Karen GreenBay, Director of the SCHOLAR Peer Mentor Program.
According to GreenBay, the type of support given by mentors depends upon the mentee. Mentors can help first-year students navigate the resources available to them on campus, and help them to form relationships with their instructors and academic advisors.
"This is the second year that Mentor Awareness has been recognized campus wide," said GreenBay. "The SCHOLAR Peer Mentor Program has always internally recognized our mentors, but we believe that campus wide recognition is important to emphasize how our mentors contribute valuable time and effort to another student."
Students who are interested in volunteering as a Peer Mentor can do so by completing a mentor application via the SCHOLAR Program website or pick up an application at our office in Arts and Science's Commons room 1021.
"We also have a Facebook Page, Scholar Peer Mentor Program at Ferris State University, where students can obtain immediate information more about what we do," said GreenBay. "The program has also scheduled Mentor Workshops in April where prospective mentors may learn more about the program and ask questions."
GreenBay also will be presenting on 'Why Mentoring Makes a Difference' at the Academic Support Center-Speaker Series, on Tuesday, March 17.