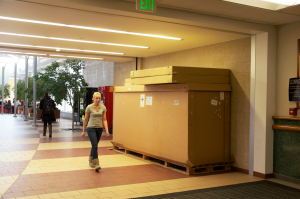 We've been walking by it in the IRC for months now. I estimate you could fit six people comfortably inside of it. The contents of the massive cardboard box in front of the College of Business doorway have eluded me for too long. The question that's plaguing all of us is: What's in the box?
Some days, the box makes me angry. Other days, I'm filled with imaginative wonder about what the university purchased that is really THAT BIG. Whatever actually is in the box must be of great importance. I am taking it upon myself as a journalist to uncover Ferris' greatest mystery. Time to do some "investigative journalism." I believe I deserve a few guesses.
My first guess: A jacuzzi for the exclusive use of students in the College of Business. Those big gaps we have in between classes will soon be filled with relaxation and enjoyment. That's right, business majors. Next time you suit up for a stressful day in class, remember your swim suits underneath.
My next (even more probable) guess: The box will soon open to reveal yet another Starbucks. You might be thinking, "that's ridiculous because we already have two of those on campus." Think again, my friend. The only thing better than two overpriced coffee shops is three of them.
My final guess: Inside of the box is the cryogenically frozen body of Walt Disney himself. Acquiring Disney's body would be a huge expense to the university, but a justified one. Mr. Disney will likely emerge from the box in the near future and begin work on a new theme park here in Big Rapids.
Now, jokes aside. In all likelihood, it's a printer. Not even 3D, just a plain old printer. It may be useful to note that four additional, much smaller boxes have since appeared on top of the big one. What could these be?
Five days a week, I walk by these packages and in truth, I wonder most about how much bubble-wrap will be inside. Maybe packing peanuts? Administrators, hear me now: Whatever you do, don't just throw away the boxes and bubble-wrap. Let my fellow classmates and I enjoy ourselves, for popping bubble-wrap is one of life's few guiltless pleasures.