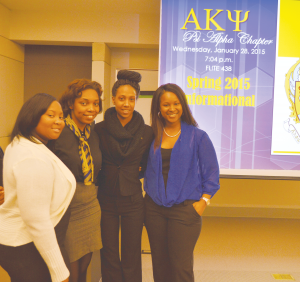 Alpha Kappa Psi showed students how they focus on professional development for its members during their Rush week.
The co-ed professional fraternity welcomes students of all majors to experience the networking and leadership benefits of going Greek.
"It's a great experience," said Sports Management and Broadcasting sophomore Sarah Bryant who rushed in fall of 2014. "It's beneficial résumé-wise, brotherhood-wise, you'll meet a lot of great people, be able to network, and it's just like becoming a family."
AKPsi's Rush week took place Jan. 26 through Feb. 1 and consisted of professional events, social events, and community service events.
"You kind of get a little bit of everything we do in one week, but it's nothing compared to what we do in general," Criminal Justice senior and AKPsi President Jenny Lan said.
The Rush process is a chance to show the members if you've got the ambition and drive to be in AKPsi.
"For the most part, we try to be welcoming to anybody who takes interest," Lan said. "Is it selective? Yes. We don't just want any and everybody. We do need people who want to work."
Bryant said there is a lot of work that goes into being a contributing member of AKPsi once you get in.
"Basically, it's knowing about the fraternity, putting in work for the fraternity to become a better business leader," said Bryant. "It's not just so you can wear Greek letters or say you're part of AKPsi. It's more of putting in the work and showing that you are AKPsi."
Bryant has only been a brother of AKPsi since last semester, but she's already experienced the benefits.
"I learned basically the professional aspect, how to network, how to just be open with people, and how to take that step and become a leader and not just stand in the background," said Bryant.
As with any Greek organization, the brotherhood aspect of AKPsi is cherished by its members.
"We try really, really hard to instill that as one of our core values to try to make sure we have each other's backs," said Lan. "We make sure we emphasize that we're there for one another and a lot of us have a really tight bond to be honest."
Lan finds that having AKPsi on her resume helps set her apart when applying for jobs and helps her connect with fellow brothers.
"I've actually met two other brothers of AKPsi, one who was in the police department in another state," Lan said. "It's easier to communicate with them and that's your foundation. AKPsi can help you build a bond with someone you don't even know to help you get somewhere in life."
AKPsi holds a Rush Week at the beginning of every semester. Those interested can contact Jenny Lan at lanj@nullferris.edu.