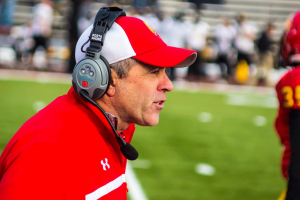 Central Michigan University, who was recently tasked with hiring a new head coach after longtime leader Dan Enos resigned, still has yet to fill the vacancy. So long as that spot remains available, speculation will likely continue to spread like wildfire on who will assume the role.
Soon after the position opened, a number of potential candidates were compiled, including Bulldogs' own Head Coach Tony Annese. The job would practically quadruple Annese's salary and could serve as an excellent gateway into the world of Division I football.
It was even reported by The Morning Sun that Annese had interviewed for the job. Multiple sources were cited in the article supporting the claim. Once the article was released into the public, it was quickly picked up by other notable news sources.
However, soon after the information was leaked, Annese personally refuted the claim to CM-Life, stating that, "I'm in the midst of securing my recruiting class," said Annese. "People might be putting it out there just to mess with our class. I have not interviewed (for the CMU job)."
It has not been stated one way or another whether CMU's Athletic Department or Athletic Director Dave Heeke have reached out to Annese in reference to the job opening.
National Signing Day, which is the day intended for recruits to fax their letter of intent to the schools that they plan on attending, falls on Feb. 4 this year. It was originally said that Heeke would prefer to fill the position by National Signing Day, but that is beginning to seem progressively more unlikely as the day quickly approaches.
Knowing that Annese has not interviewed for the job, Detroit Lions' special teams coach John Bonamego who has reportedly been interviewed, seems to be the frontrunner to fill the position.
With the recruiting season coming to a close on Feb. 4, Annese seems focused on his affairs here at Ferris State, and preparing his Bulldogs towards making another run at the GLIAC Championship next season.