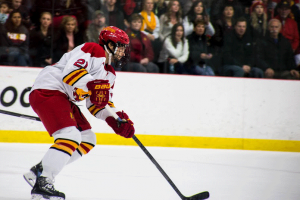 After enduring a four-game gauntlet against No. 1 Minnesota State in which they lost every game, the Bulldogs are now facing a similarly daunting four-game stretch against Bowling Green State.
"Playing four games in a row against a team is never an easy task. It can be both good and bad for us. We can learn their tendencies and system, but they also have the chance to learn ours," says sophomore forward Chad McDonald. "At the end of the day, whoever carries out their game plan the best will win. We will be ready to go for our next series."
Last year when the Bulldogs hosted the Falcons, they came away with a 4-2 victory and a tie after pushing the game into overtime with a score of 3-3.
This year may yield different results since the Bulldogs have faced some hardship in scoring goals. They've scored more than one goal just twice in all of January, both instances happening against Alaska-Anchorage.
"We have to tighten up our play in the defensive and neutral zones so that we can create more turnovers," said sophomore forward Kyle Schempp. "That will lead to more time in the offensive zone where we need to get more pucks and bodies to the net."
Playing four consecutive games against the same players can be a recipe for ferocity, as tensions tend to reach a boiling point by the time the teams meet for the fourth time in a row.
"The play can definitely be more physical and guys can get sick of playing against one another which can lead to aggression when you play a team four times in a row," says Schempp.
Ferris State hockey has had little to celebrate lately, having won just two games in the past month. The Bulldogs will be hoping to turn their luck around by building some momentum in the opening series and capitalizing on a long overdue return home.
"Nothing compares to playing at home. Our fans, especially the Dawg Pound, always bring it and that creates an advantage for us every game," said McDonald. "Coming back to play at home will be great after not playing there for a month, but every game that we play at home is special."
The first half of games will be played in Bowling Green, Ohio with the Dawgs set to face off with BGSU on Feb. 6 and 7 at 7:07 p.m. Following the road trip, the Bulldogs will host the Falcons on the following weekend in Ewigleben Arena.