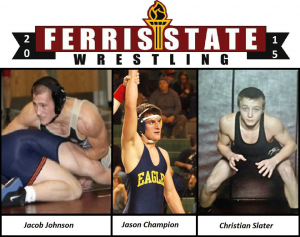 With the help of some very determined students, Ferris State has added one more sport to their list of men's club athletics and will be starting up a club wrestling team this year.
Last Wednesday, Jan. 28, junior Construction Management major Jason Champion went in front of the Ferris State board of sports directors to propose bringing a wrestling team to the university. The board approved the addition and now Champion and some others are taking initiative to get the ball rolling.
Champion will act as the President of the Wrestling Club, and he will use his experience in the ring to lead the team. He graduated from Hudsonville High School where he wrestled for four years. In his time at Hudsonville, Champion was team MVP in both his junior and senior seasons. He was also the team captain his senior year.
Champion's Vice President will be Ferris student Christian Slater, who wrestled at Davison in his High School years. According to Champion, Slater was a two-time state qualifier in high school and compiled a 96-34 record at the varsity level before tearing his meniscus his senior year at regionals.
The team will be coached by Jacob Johnson, former wrestling team captain at Lindenwood University. Johnson also wrestled at the University of Michigan and had multiple medal performances in Division I & Division II collegiate open wrestling tournaments defeating several Division I All-Americans according to Champion.
According to the same source, in his time at Reed City High School, Johnson accumulated 16 Reed City High school wrestling team records including most wins with a 200-32 career record. He was a four-time Team Michigan national team member and a three time Michigan State place winner.
Johnson also was awarded the 2007 Army Scholar Athlete Award and the 2007 Detroit Free Press Scholar Athlete Award. He graduated top 10 of his class in 2007, and was a 04-07 Cadillac News Dream Team member.
The team will not begin competition until the beginning of next year, but will start trying to fill up their spots very soon. The team plans to compete against other club teams from Grand Valley State, the University of Michigan, and Michigan Tech to name a few. Champion says the team is willing to take on anyone from advanced wrestlers to beginners.
The team will be holding their meeting in FLITE 112 next Tuesday, Feb. 10 at 11 a.m. and encourages anyone interested to attend.