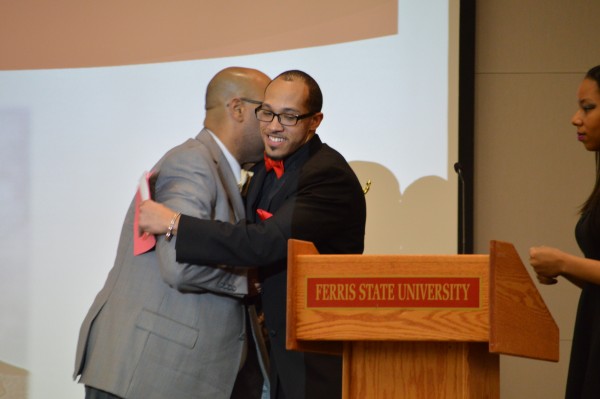 Black Leaders Aspiring for Critical Knowledge (BLACK) presented the 2015 Image Awards Friday, Feb. 6 in conjunction with the Office of Multicultural Services' annual Black History Month celebration.
The event, which was first created in the early 1990s, recognizes and celebrates the accomplishments of minority students at Ferris through "edutaining"—educating and entertaining—the audience. This year's theme was "A Night to Remember."
Omari "King Wise" Barksdale and Shabree "Poetic Bree" Ferrell are spoken word poets from Detroit who served as guest hosts for the ceremony. Barksdale, a Ferris alumnus, was one of the original founders of BLACK and has been participating in the Image Awards every year since 1995.
"This is an event that is not only for black people, but it's the only event historically that has acknowledged us on this campus," Barksdale said, "so it helps to build a sense of pride and achievement and energize the student body, and that can never hurt a celebration like Black History Month."
During the ceremony, awards are given out for a variety of categories including athletics, academics, performing arts, RSO leadership and more. Each award is named after a famous African American leader in history, such as Malcolm X, Sojourner Truth, W.E.B. Dubois and Martin Luther King, Jr., whose birthday we celebrated just last month.
"I think the significance of each award being named after prominent African Americans in history really personifies how black history is American history," Michael Wade, assistant director of the Office of Multicultural Services (OMSS), said. "It really connects right to [Black History Month] to let students say, 'Hey, I was nominated for this award based on these qualities that this person in history represented,' so we're really giving the students a connection with their history and that's what it's all about."
The recipients of the awards were all nominated and chosen by students through elections on OrgSync. Sam Baeten, sophomore Social Work major, was proud to be a representative of the Social Work Association, the winner of this year's Rosa Parks RSO Leadership Award.
"The Rosa Parks Award was for an RSO that is devoted to showing leadership and developing their communities by standing up for diversity," Baeten said. "[The Social Work Association] is for social work students. [We have] Undergraduate and Master programs for them to join and be able to participate in events around campus and we do a lot of volunteer work in the community. We are very thankful that we got this award and we will continue to show campus what we can do."
In between the awards were a wide range of performances to entertain the audience, including music, poetry recitations, and dance. This year's featured artist was the guest band, Late Nights Early Mornings, an R&B group from Detroit.
Many students try to make the Image Awards an annual priority. "I was invited," said OJ Adaji, junior Computer Systems and Networking major. "I usually try to come every year. This is my second year."
"As advisor for the organization, I really just try to guide the group to put on a phenomenal show that's inclusive of the campus, but is also entertaining," Wade said "That's kind of my goal, but it's really a student-led program as it has been for the last 20-plus years."
Barksdale was able to provide some first-hand information about the history of BLACK and the Image Awards. "You know, when we started as an organization, the administration automatically assumed that we were a black hate group even though we were out in the neighborhood shoveling snow or raking leaves for the elderly and reading to the children at the day care centers, who are multi-diverse cultures," Barksdale said. "So all we've ever been focused on was how to improve our standing and our image within ourselves and know how powerful we can be, even when a lot of America is telling us that we're not powerful." The Image Awards is just one opportunity for minority students at Ferris to showcase that power.