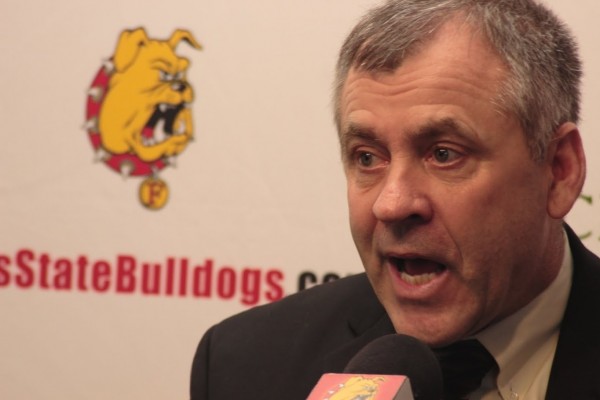 With the Central Michigan job now filled by former Detroit Lions coach John Bonamego, the focus in Ferris football turned to Annese's now more likely fourth season at Ferris State.
Fax machines may be largely outdated in this age, but that didn't stop Head Coach Tony Annese and his staff from gathering around the machine waiting for several recruit's letters of intent to come through.
"Part of what makes you a champion is recruiting young men with unbelievable character, outstanding work ethic and the determination to be the best that they can be," says Annese. "That's the formula that we've used and it's worked well for us, and we've got a great group of young men today."
Annese inked a good mixture of talent, as the Bulldogs added 15 players on the offensive side of the ball, as well as 15 defensive players.
"We've got great balance. Our goal was to recruit like we were putting a whole football team together, so that means five offensive linemen, four defensive lineman, three linebackers, et cetera. We're very pleased that we did that very well," says Annese.
In finding men to fit this mold, Annese also focused on attracting state champions and taking advantage of the talent pool that is western Michigan. The team was successful in this endeavor, reeling in nine state champs and eleven players from the area, including Grand Rapids South Christian's linebacker Sam Heyboer, who fits both criteria and stands at 6-5 and 215 lbs.
"Sam runs really well and we worked really hard to get him. Sam, to me, is potentially a guy who could have a chance to play at the next level if he grows. He can play tight end, H-back, receiver, defensive end and linebacker," said Annese.
The team also unearthed plenty of talent in other parts of the state, including a 5'9 190 lb. running back in Marvin Campbell. Carrying the rock for Detroit Loyola, Campbell racked up almost 2,000 yards on the ground and ran for 30 touchdowns in his senior season.
"Marvin is the best running back in the state. You're going to find that out as time progresses," says Annese. "He's just dynamic. I think his stature, being that he's a little bit shorter, plays into the love we have for him. Some people look for taller guys, but he's built powerfully and can really run."
Farmington Hills Harrison's Jevon Shaw was just one of the three quarterbacks signed in this recruiting class, but his high school stats show that he has the athleticism to play a number of positions.
"Jevon's one of my favorite young men that I've had the privilege of recruiting. His balance is incredible. He had near 1,000 yards rushing, near 1,000 yards passing, punt returns, kick returns, just google his name and you'll be very impressed," said Annese.
Another quarterback included in the class, and one of the four commits from outside of Michigan, was Williams Bay's John Higgins, who hails from Wisconsin and measures in at 6-4 and 230 lbs.
"6-4 and 230 are familiar numbers for a quarterback around Ferris State because of Jason Vander Laan. John is kind of a mold of Jason. He's a dominant football player," says Annese. "He runs well for a big guy, throws it well and has great instinct, so we'll see what he can do in regards to running people over the way Jason does."
Speaking of Harlon Hill Trophy winner Vander Laan, Annese remarked on how he and the Bulldogs' three other captains played an integral role in the recruiting process.
"Jason Vander Laan is the top player in Division II, among 8,000 other players. He's an Academic All-American. He's a Fellowship of Christian Athletes guy and he gives his spring break away to go on a mission trip. He walks around campus and smiles and is respectful. I always just say that he's an ambassador for Ferris State," says Annese.
Of course, it takes more than just a visit with Vander Laan and the rest of the team's captains to secure a commitment. After all, the recruit is committing to the school and not just the football team.
"When we have recruiting visits on our campus, I don't know what our students do, I don't know what our players do, but we'll get 75% of the kids that we get on this campus just because of the feel-good nature of the campus and our students loving Ferris State," said Annese.
Recruiting is not a solo effort by the coaches, and every aspect of the university and its student body can indirectly play a part in locking down touted recruits.
"At the end of the day, people can sell a multitude of things. They can sell unbelievable facilities, but what we sell at Ferris State is that we've got great people, and we're going to have a great climate and build an unbelievable culture for young people to be a part of," says Annese. "If that's not enough for them, then we don't want them."
Between boasting an 11-0 regular season record, a GLIAC championship, the chance to play alongside a Harlon Hill Trophy recipient and the family atmosphere of the campus and team, Ferris State has plenty of assets to sell.