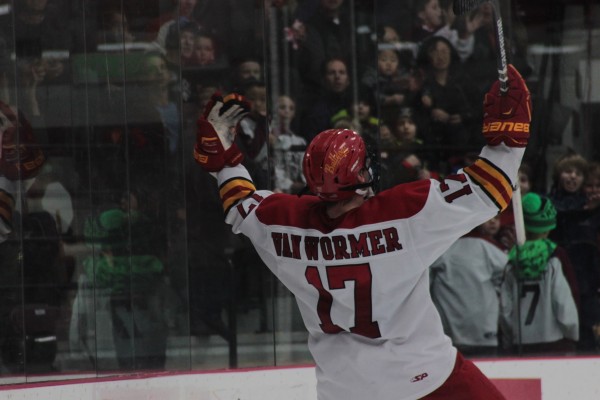 The Bulldogs bested No. 8 Bowling Green State 3-2 in overtime on Star Wars Night before a sold out Ewigleben Arena crowd of 2,490 fans.
The Dawgs split the home series with the Falcons, who walked away with a 4-1 victory on the previous night.
The force seemed to be with the Bulldogs on "Star Wars Night" early in the game, when sophomore right wing Jared VanWormer was able to find twine during a power play, thanks in part to assists by senior Justin Buzzeo and sophomore Ryan Lowney.
This 1-0 score wouldn't hold for long, as the bulldogs quickly doubled their lead after senior defenseman Jason Binkley scored his second goal of the season. VanWormer and freshman Tyler Andrew were both credited with an assist.
Ferris maintained the 2-0 edge until the waning minutes of the second period, when BGSU's Adam Berkle scored for the dark side at the 17:35 mark.
The Falcons were able to score the next goal as well, as BGSU's Ben Murphy knotted it up at 2-2 early on in the third period with a goal.
Afterwards, both teams' defense proved too much to overcome and the game was pushed to overtime. The Bulldogs were badly in need of a new hope heading into the sudden death supplementary period.
At the 3:48 mark in overtime, VanWormer took a shot reminiscent of Luke Skywalker's finishing blow on the Death Star. Just as Skywalker nailed the shot into the Death Star's thermal exhaust port, VanWormer snuck the puck through a narrow opening left unguarded by BGSU goaltender Chris Nell for the game winning goal.
VanWormer finished the night with an assist and a pair of goals, both of which were assisted by Buzzeo. Lowney, Binkley and Andrew, also notched one assist each for the Bulldogs. Goaltender CJ Motte was a phantom menace in net, tallying 28 saves on the night.
This win may help to generate some much needed momentum for a floundering Bulldogs team who has suffered through a 3-11 slump in their past fourteen games. The Dawgs will hit the road next weekend for their second series against Alabama-Huntsville on Feb. 20-21. Ferris split their last series against AHU, losing 3-2 before posting a 5-2 victory back in November.