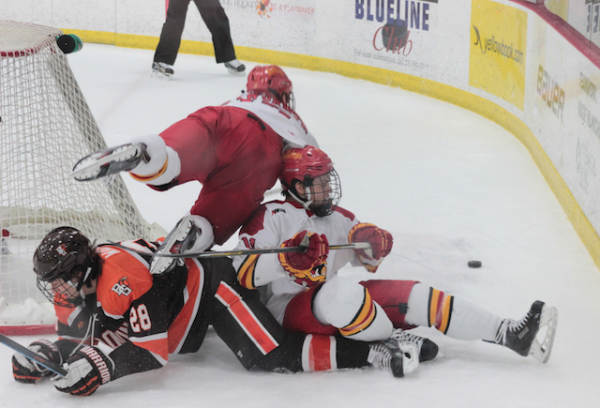 Despite putting 44 shots on net, the FSU hockey team could only scavenge for one goal as they fell to Bowling Green State in a 1-4 loss on Friday night in Big Rapids.
Bowling Green goalie Tommy Burke recorded a remarkable 43 saves in his performance against the Dawgs.
No. 8 Bowling Green drew blood first with a goal from freshman forward Brandon Hawkins. Connor Kucera and Ben Murphy were given the assists for the goal scored 6:46 into the first period.
With 8:00 left in the first and the Bulldogs on the last few seconds of a power play, the Dawgs tried to hammer a loose puck into the net but to no avail. The rest of the first period went scoreless and ended with a 0-1 score in the Falcons favor. Ferris outshot BGSU 12-11 in the period.
The Falcons came out hot in the second, scoring just 1:51 into the period. Freshman forward Ben Greiner tallied his third goal of the season off an assist from freshman teammates Mark Friedman and Mitchell McLain making the score 0-2 in favor of the Falcons. With 3:05 left in the second, the Falcons tacked on another goal as Brent Tate scored from the slot with assists from Nolan Valleau and Dan DeSalvo.
Despite the Dawgs outshooting Bowling Green 19-7 in the period, the chances garnered no results as the Dawgs headed into the 2nd intermission down 0-3.
The third period was scoreless until the Falcons put another puck in the net with 9:16 left in the game. Sophomore forward Matt Pohlkamp put one past CJ Motte with some help from Walker and McLain on the assists.
Ferris State junior forward Kenny Babinski would finally get the Bulldogs on the board with a goal with 5:55 left in the game. Junior defensemen Zach Dorer and sophomore forward Jared VanWormer were awarded the assists on Babinski's goal.
There would be no more goals scored in the game as the Bulldogs dropped their seventh straight game by a score of 1-4.
After the loss the Bulldog's record drops to 11-18-1. They play the No. 8 Falcons once more at home on Saturday night at Ewigleben Arena. The puck will drop at 7:07 p.m.