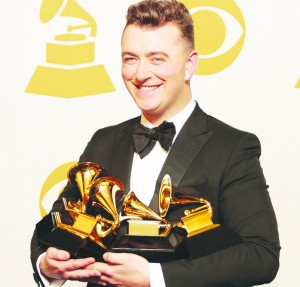 It was that time of year again when all of our favorite and well known artists came together at the LA Staples Center in Los Angeles, CA to celebrate each other at the 57th Annual Grammy Awards.
Lots of performances and fashion faux pas were seen on stage and the red carpet. We saw men in dapper tuxedos and women in bushels of fabric and diamonds. Among the best dressed, according to Vogue.com, were Beyoncé Knowles-Carter, Ariana Grande, Rihanna, Wiz Khalifa and Ciara. And the worst being Madonna, Iggy Azalea, Meghan Trainor and Charli XCX according to Entertainment Tonight.
Aside from the foolish and somewhat extravagant fashion choices of these celebrities, what would the Grammys be without performances? From Madonna's strangely intriguing performance to a once in a lifetime duet from Sam Smith and Mary J. Blige, my favorite of the night came from the heartfelt tribute from her majesty, the Queen herself; Beyoncé.
I mean come on- who'd you think I'd say? She graced the Grammy stage to introduce John Legend and Common as they all performed popular songs from the movie "Selma." Tying for my favorite as well was the performance of "Four Five Seconds" by Rihanna, Kanye West and Paul McCartney. And if you haven't heard it, get your life together and do so. Quick.
But "why does the Grammys even exist?" you may ask. Simple. Awards. Lots and lots of small, gold, trumpet-style awards. Everything from the Best R&B Performance to Album of the Year were among the nominations.
Twitter lit up with excitement as Sam Smith won almost every category he was nominated for including: Record of the Year, Song of the Year, Best New Artist and Best Pop Vocal Album. Beyoncé was also a top winner, taking home four of her own to add to the collection.
The night's biggest spectacle came from the almost hijacking of the show after the announcement of the winner of Album of the Year. For those unfamiliar, let me fill you in. Kanye West is arguably Beyoncé's number one fan. No jokes. We learned this when he decided to take the stage in 2009 at the Video Music Awards after Taylor Swift won the Video of the Year Award-over Beyoncé. Kanye took the mic during her acceptance speech and told the entire world that it was Beyoncé who rightfully deserved it (the clip is on YouTube). So when he started towards the steps to do the same to Beck, Capitol Records label artist, I'm sure we all didn't breathe right then. But he quickly turned around and went back to his seat.
The Grammys come every year. But of course, you never know what to expect. It's one of my favorite award shows that reoccurs. And I look forward to it every year. So if you didn't watch it, that's sort of lame. But no worries. They've got their own website. Exclusive right? Yeah, I know.