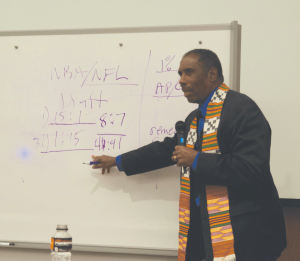 Ferris State University celebrates Black History during the month of February.
The celebration of Black History started out at as a week long celebration in 1926 and in 1976 it became a month long celebration. Ferris has been celebrating Black History since the beginning of this tradition.
On Feb. 11, the Office of Multicultural Student Services (OMSS) and Alpha Phi Alpha Fraternity Inc., Zeta Beta Chapter presented Dr. Juwanza Kunjufu to help educate Ferris students about black history.
"[Dr. Juwanza Kunjufu] is a scholar, his resume speaks for itself, and we figured his experience and research would be beneficial for students on this campus," Michael Wade, Assistant Director of OMSS said. "I hope that students learn more about African American history while we celebrate Black history month, that's the first thing. The second is I hope students learn something they didn't know before, we always try to spark their interest."
According to Wade, OMSS is hosting five Black History events this month to spread cultural awareness on campus.
"I work with OMSS and to me, Black History month means recognizing the struggle African Americans have gone through," early education sophomore Megan Hornburg said. "Also, it means knowing how much they have overcome to be here today with all the freedom they get to have."
Some students feel Black History should be celebrated for more than just one month.
"Black history means a lot," psychology junior Domonique Ferguson said. "I feel like Black History month is underrated. I feel like people don't take enough time to learn about Black History. I don't feel like it should be celebrated throughout the month, I feel like it should be celebrated every day of every month."
Dr. Kunjufu spoke about African Americans in college, aiming to not just address the issues, but to spread hope.
"There's more black men in prison than in college," said Kunjufu, "but tonight I give good news. I'm not talking about the problems, I am talking about the solutions."
Many Ferris students that attended the presentation felt pride that this university celebrates Black History.
"I think it is dope that I am able to go to a college that celebrates black history," sports communication sophomore David McPherson said. 'Like, my first year here people in the community looked at me differently, like when I was at Walmart, and being from Royal Oak, I wasn't used to that. When I sit in class, students talk about how wrong it is that people still get treated like that, I have never seen students be racially biased. I think it is really cool how people on campus treat people of other racial ethnicity."
In most areas, racism has greatly decreased since the days of Rosa Parks, but like all of our history, it is important to remember and recognize what people had to go through to get where they are at today.
"People who don't know their history are destined to make the same mistakes over and over again," said Kunjufu.