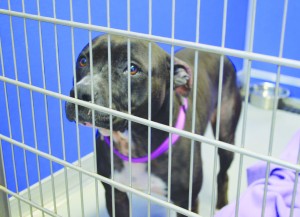 Being in Big Rapids all semester, some students might get a little nostalgic for their furry friends back home.
For those who are in need of some puppy love or if you just enjoy animals more than humans, there is an RSO for that!
Pet Savers is a student organization working to educate people about responsible pet ownership, along with providing student volunteers and fundraisers.
"Many of us have pets at home and miss them while we're at school," biology and pre-veterinary student and Pet Savers president Michelle Dunn said. "So we enjoy giving our time to help the pets in the Big Rapids area. We're all about helping animals."
Along with promoting awareness about pets and pet care, the organization also partnered up with the Animal Rescue Coalition (ARC) of Mecosta County.
"We started out as an organization that placed homeless pets into foster homes until we were able to find their forever homes," Dunn said. "Now we shifted our focus to providing a student volunteer workforce for this no-kill shelter."
During her time at the shelter, Dunn grew fond of one dog in particular.
"Recently I've been able to watch the complete transformation of a dog, Nina," she said. "When she arrived she was in bad shape and very skinny, but in just a few short weeks, she's almost back to full health. It just goes to show what some care and human interaction can do for a dog."
Many members of Pet Savers volunteer regularly at the ARC and work with the dogs and cats currently housed there.
"Our shelter opened on October 1, 2012," founder and owner of the Animal Rescue Coalition Cate Arroe said. "So far we've taken in over 900 homeless dogs and 300 homeless cats."
Aside from working with the ARC, Pet Savers raises awareness about what it takes to become a responsible pet owner.
"Many college students get a pet for their house or apartment, but may not realize the time, money, and care that's required to properly care for a pet," Dunn said.
The Animal Rescue Coalition is always accepting student volunteers, but this is no simple job; animal experience is required, and volunteers are expected to come in for weekly training.