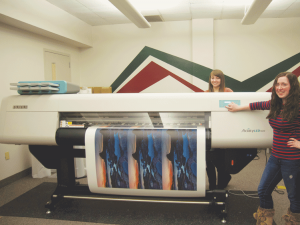 The Torch recently pondered the purpose of the large box in the IRC in a column called "What's in the box?!" Now, we have the answer.
The box is empty and has been since January 8. It is waiting to be recycled.
However, the box used to hold a FujiFilm Acuity LED 1600 Inkjet Printer, valued at $120,000 dollars. The printer can print on anything up to 63 inches wide by an infinite length and up to one half inch thick. Its uses include printing bumper stickers, car wraps and plastic signs; it can even print on aluminum.
Patrick Klarecki, Graphic Media Management professor and program champion, explained that the printer is "part of a consignment agreement with FujiFilm USA and Ferris State University meaning we get to use if for free."
The Graphic Media Management program is only two years old. The former Printing Program, rooted in the College of Engineering Technology, was reshaped to better fit the industry.
"That process led us to move the program to the College of Business, completely redesign the curriculum and start the Graphic Media Management Program," said Klarecki.
With the Acuity printer, the Graphic Media Management program also added an Epson F2000 InkJet Garment Printer. The University has committed to building a new instructional lab for the Graphic Media Management program in the College of Business. The program's new equipment will replace some "obsolete" printing equipment in the Swan Building from the Printing Program.
"Students studying in Graphic Media Management are in high demand because, upon graduation they will know how to use this technology." said Klarecki. "Students in Graphic Media Management also like to make cool stuff!"
Construction on the new printing lab is expected to begin within a few weeks and will be complete by the fall 2015 semester. The Graphic Media Management program reports a 100% graduation placement rate.
"So what is in the box? Great career opportunities," said Klarecki.