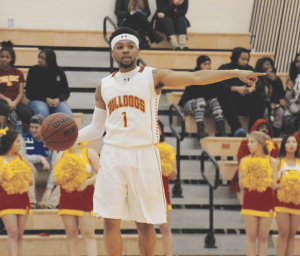 The Ferris State men's basketball team is coming to the home stretch of their season, and there are playoff implications on the line.
The 18-7 Bulldogs haven't helped their cause the past two weeks, dropping four straight conference games after being atop the Great Lakes Intercollegiate Athletic Conference. Yet compared to a 10-16 overall record, and a 9-13 conference record last year, the Bulldogs are still surprising some fans with the quick turnaround this year.
Junior center Jared Stolicker has been a large part of the team's success this winter, and is not entirely surprised by the team's impressive level of improvement from last year.
"I mean we knew the talent that we had and that if we worked really hard that we had the potential to do anything," Stolicker said. "People just had to step up and do their part, and if everyone did their part then we didn't really have a ceiling, we could really go anywhere we wanted to."
Having already clinched a spot in the conference tournament, the Bulldogs have marked the Division II NCAA Tournament as their target destination.
They sit at 14-5 in the conference which puts them just two games behind Lake Superior State and Saginaw Valley State. In order to make the NCAA Division II Tournament, the Dawgs must either win the GLIAC outright, win the GLIAC tournament, or finish as a top four team in the region.
It is possible that the Dawgs could surpass LSSU and SVSU as Ferris plays out their final three games of the season, as both of those two teams appear on the remaining schedule. If the Dawgs win against Hillsdale and SVSU this week, and Grand Valley next week they have a chance at winning the conference, even with a couple of losses from LSSU and SVSU.
"The GLIAC is always tough top to bottom. I think Northern Michigan is last in the GLIAC and we lost to Northern [two weeks ago.] Every game is a grind, that's for sure," Stolicker said.
The Bulldogs play at 8 p.m. Thursday, Feb. 19, an away game at Hillsdale. They will return to Big Rapids for their last two games of the season on Saturday and the following Thursday.
"It's great to play in front of the home crowd. It helps having all the fans and support there, and it's always tough for other teams to play on the road so it's nice to be at home," Stolicker said.
Two hours before the Bulldogs play, the women's basketball team will play the same schedule as the men's team, also capping off their regular season at home.