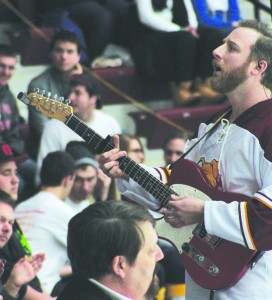 The 2014-15 hockey season has been a severe drop off from last year's success, but the loyal followers of Ferris State hockey haven't given up on the Bulldogs.
Despite the tumultuous season, fans of all ages have still been nearly packing Ewigleben Arena with an average home attendance of 2,169 fans. This level of support in the face of adversity demonstrates just how resilient and longstanding the Bulldog spirit can be.
"We've been coming to the games ever since there has been a team. We started coming in 1975," said Pat Yeager. "My husband was the first president of The Blueline Club, and it was founded in our living room, so that was kind of an exciting moment, and we've stayed involved over the years."
Yeager, who has been in attendance for the majority of Ferris State's home games, marks her space in the stands with a custom Ferris State hockey banner, and dons a custom jersey covered in Bulldog autographs. Over the years, she has collected plenty of memories.
"… Jimmy Baker's penalty shot coming right at us. We've always sat—up until this year—right behind the goal, so that was wonderful to see from that perspective," says Yeager. "We used to do the feeding frenzies when school was on break, and we'd make dinners for 6 or 7 kids who were still in the area. We've gotten to know a lot of the kids over the years and that's probably the highlight for us, is that we feel like those kids on the ice are our kids."
Positive memories like these, and the promise that there are more to come, are just part of what makes Yeager keep coming back to support the Bulldogs on the ice.
"I think these are the years when they need us the most. They need us out here to pick them up even when the season isn't really going the way the team or the fans want it to," Yeager says. "(Assistant Athletic Director) John Coles has done a lot of things to bring people in and keep the crowds up, and the fans have done a good job of supporting the team even though they're losing right now."
While the team's success is important to Yeager, it is not the determining factor in whether or not she supports the Bulldogs.
"They do their best and sometimes it works while other times it doesn't. They have ups and downs just like the weather, so we're going to be coming to the games for as long as we can still walk," said Yeager. "It doesn't matter if they're having a stellar year like they had last year, or if they're going through a rough time, we'll still support them."
Another longtime fan who supports the Bulldogs whenever possible is Mary Doran. Despite being restricted to a powered wheelchair, Doran has missed just one home game in the last ten years, and her furry friend can boast the same track record.
"Ozzy is my service dog so he comes everywhere with me and he loves to watch hockey. He watches the puck and he keeps track of the players on the ice. He and I are friends of Nancy Motte, who is CJ's mom, so anytime anybody tries to knock CJ into the net, he'll growl at them."
While he may not look like a bulldog, Ozzy is a bulldog at heart, and he has accompanied Doran to the games for as long as she's been attending, dressed in his very own Ferris State apparel made for dogs. Both Doran and Ozzy hold a connection to Motte.
"One of my favorite moments was last year when the new locker room was unveiled and John Coles actually let me be the one to give CJ his senior ring. I think I was tearing up even more than he was that day," Doran said.
Yet just as her favorite goaltender is sometimes forced to stand helpless in the crease as the team struggles, Doran endures even the toughest of games. However, she still takes every opportunity to make her voice heard from the crowd as she attempts to rally support for the Dawgs.
"Even when they have a bad game, it's our job as fans to be there whether they're at the top of their game, or at the bottom of it. We need to be their support system," Doran said. "It's not like the NHL. I've been to plenty of Red Wings games, and nothing compares to watching these guys play college hockey, because they really put their heart and soul into it. It's not about a million dollar contract, it's about the love for the game."
This passion and dedication to the sport that the players display can also be seen in the inspiring commitment that fans like Yeager and Doran hold for Ferris State hockey.
"Coming to these hockey games is just the best part of winter for me. I love coming here, seeing everybody and watching the sport," Doran said. "It's fun to be a part of something that's so big, yet so small."
The Bulldogs and the thousands of fans that support them still have something to fight for. Riding a three-game winning streak, the Bulldogs will hope to continue their winning ways, as it could earn them home-ice advantage in the first round of the upcoming WCHA Playoffs. Their first opportunity to do so will be this weekend, when they host Bemidji State. The puck will drop on both Friday, Feb. 27 and Saturday, Feb. 28 at 7:07 p.m.