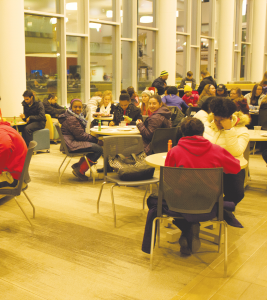 It can be difficult to find weekend activities in Big Rapids that don't involve dodging the masses at Shooters or a lonely night of Netflix.
Fortunately, students can now experience free food and entertainment at the University Center on Fridays at Ferris.
"I personally love the Fridays at Ferris concept," music industry management freshman Jessica Marcks said. "It actually gives me something to do on Fridays and to get out."
Fridays at Ferris are an activity series put on by the Center for Leadership, Activities and Career Services that began on Feb. 6.
"Friday at Ferris is an umbrella name," music industry management sophomore Josh Olszewski said. "First we were just going to have an open stage but then it kind of formed into having movies and karaoke nights, so I think now that we have sort of an idea of what it is, we can continue to move forward and promote it and have more people show up."
Many of the events so far have been music related, which has attracted music lovers all over campus.
"I like to listen to live music and play live music," music industry management freshman Devin Vargo said, "So it was just something closer to me. As long as it involves music, it's pretty safe to say I'll be there."
Every few Fridays, a movie will also be shown for a more relaxed night than the open stage/karaoke nights. Mockingjay pt. 1 and Big Hero 6 are two movies that have been shown so far.
"My friends and I love karaoke, so we went, but none of us had seen Mockingjay so that was kind of perfect too," Marcks said. "I like that there were snacks and free popcorn for Mockingjay."
The biggest asset to Fridays at Ferris, though, is that these activities provide some good old fashioned fun for students who may not want to walk in subzero temperatures to a frat house every weekend.
"It wasn't our main intention," music industry management junior Olivia Odette said, "But it's a good thing. If someone wasn't looking to party on the weekend we want to give them a fun opportunity to not do that."
Fridays at Ferris begin at 9 p.m. and last until 2 a.m., so even if students are going out, they can stop by and check out these events first.
"I think it's too early to tell how well people are going to receive it or which alternative they're going to choose," Vargo said. "Even if people are still planning on going out, they don't necessarily have to stay the entire time."
Future Fridays at Ferris will include more movie nights, karaoke/open mic nights, a trivia night and a make-your-own music video night.
"They haven't had terrible turnouts," Odette said. "They've had enough to keep it going, but what we want is more. But as long as the program's providing a safe place for students to go, we're getting the job done."
For more information on Fridays at Ferris, contact the CLACS office at CLACS@nullferris.edu or 231-591-2685.