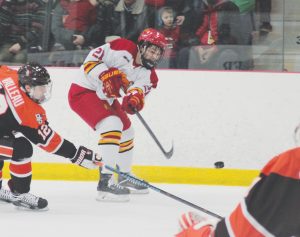 The Ferris State hockey team is gearing up for their last two home games of the season this weekend.
The Bulldogs will try to keep their current winning streak alive at Ewigleben Ice Arena on Friday and Saturday. The Dawgs will take on the Bemidji State Beavers in a game that could very well affect their matchup in the WCHA playoffs.
The Dawgs currently sit tied for sixth in the Western Collegiate Hockey Association (WCHA) with Alaska. Although Alaska is currently tied with Ferris, the Nanooks cannot make the WCHA playoffs after sanctions upon the team following, "a series of penalties from a series of eligibility infractions spanning the 2007-08 through 2011-12 academic years," according to the United States College Hockey Online website.
Ferris is only two points behind Bemidji State and Northern Michigan who are both tied for the fourth place spot in the conference. This puts the Dawgs just one win away from knotting things up for the fourth place position, which could become crucial as the top four teams in the league receive home advantage for the first round of the WCHA playoffs.
In order to make the top four, the Dawgs will have to finish strong as the season comes to an end. Although they can't do any better than fourth, Ferris State will battle with Bemidji and NMU for the fourth spot and a shot at home advantage in their second WCHA tournament appearance.
The Dawgs made the tournament last year in their first year out of the Central Collegiate Hockey Association (CCHA) after the league disbanded at the end of the 2012-2013 season. They advanced all the way to the championship game, before losing to the Minnesota State Mavericks 4-1.
This weekend against Bemidji will be a big test for the Dawgs, and they will be hoping to replicate the outcome of their games against Bemidji last year. The Dawgs beat the Beavers 8-0 and 3-2 in a double overtime win in Big Rapids last year.
If the Dawgs win both games this weekend, they will pass Bemidji in the WCHA rankings, and could possibly take fourth place alone with a loss or two from Northern Michigan.
As the regular season comes to a close, the Bulldogs are currently sitting on a 14-18-1 record after winning their past three games against Bowling Green State and Alabama-Huntsville. These three wins came after a big slump in which Ferris lost 11 out of 13 games.
In the last home games of the season, the puck will drop at 7:07 p.m. on both Friday, Feb. 27 and Saturday, Feb. 28 against Bemidji State.
The games will be streamed on Ferris Television, and also on channel 97.3 FM where Ferris' own Dominic Hennig and Harrison Watt will be calling the action.