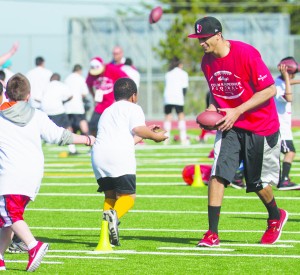 National Signing Day recently came and went, meaning that the 2015 class of football recruits are pledged to their school of choice, and it's time to look to future classes. However, some recruiting scouts may be looking a bit too far into the future.
Rivals.com, a popular scouting website that generally tracks high school recruits around the country, has recently added two controversial athletes to its database. Unlike the websites usual clientele, these athletes are in sixth grade.
That's right. A scouting website is analyzing the skills of 12-year olds to see how they will fare in college athletics. While the young athletes have yet to be assigned a star rating or national ranking, their physique and position have been listed.
Tyson Thornton, who is a running back hailing from Springfield, Massachusetts stands at an imposing 5-foot-11 and weighs in at 170 pounds. Admittedly, the kid is quite a specimen for his age group and probably tears up the gridiron against Pop Warner competition. Still, that doesn't change the fact that he needs his mother to accompany him to a PG-13 movie.
The other touted tot that Rivals is tracking is quarterback Daron Bryden from Enfield, Connecticut. Bryden is listed at 5-foot-2 and 105 pounds. Comparatively, Ferris State's own Jason Vander Laan stands 6-foot-4 and weighs 240 pounds. Conclusion: if this kid duplicated himself and sat on his clone's shoulders while wearing a long trench coat, he'd look almost as big as Vander Laan.
What's perhaps even more absurd about Bryden's recruiting profile is the fact that it lists him as a "pro-style" quarterback. I'd like to know how exactly he earned that distinction. Did he showcase his arm strength by managing to throw a decent enough spiral a whole twenty yards downfield, or did he just dress up as Tom Brady last year while trick-or-treating?
Rivals states that they started following these athletes, who will graduate high school in 2021, after they had good performances at the NextGen Boston Camp. I'm assuming the fact that they didn't cry when their parents dropped them off played a factor in what made their showing so impressive.
I've also heard rumors that Bryden always helps out his parents with the dishes at home, and Thornton can dunk on a regulation basketball hoop so long as he gets to start by jumping off a chair. Both of these impressive displays of hard work and athletic prowess surely garnered these young athletes plenty of well-deserved media coverage.
Perhaps once these prospects get through puberty, they'll be deserving of the national spotlight. Until then, they shouldn't have this kind of pressure heaped on their underdeveloped shoulders.
These kids should be more worried about watching cartoons on Saturday mornings than which university they'll represent on football Saturdays in six years.