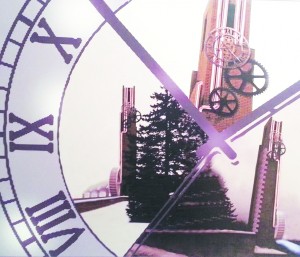 Through the wonderful world of Tumblr, I was exposed to the art of Steampunk.
It was my undying curiosity and sense of wonder that prompted me to pour myself into research of the intriguing era about a year ago.
I quickly came to the conclusion that Steampunk is absolutely the most underrated style in the history of basically everything.
So, you could imagine my excitement when the Disparate Elements: A Steampunk Revolution exhibit debuted in the University Center.
For you textbook definition lovers, let me Google that for you.
Wikipedia defines Steampunk as "a subgenre of science fiction and fantasy literature, but has developed in recent years to become a craft and lifestyle movement that commonly features some aspect of steam-powered machinery."
Wiki continues to add that "steampunk is often inspired by industrialized Western civilization during the 19th century. Steampunk works are often set in an alternative history of 19th century's British Victorian era or American 'Wild West,' in a post-apocalyptic future."
Get the idea?
Unlike a lot of people here, I actually love Ferris, so for Ferris to bring back and honor one of my favorite artistic eras makes me so proud.
Steampunk caters to my love of all things quirky and strange.
The best thing about it? It is not one particular objective thing. It's a style. To some, even a lifestyle. Steampunk can be seen in literature, fashion, architecture, and any form of art.
When I walked into the exhibit in the University Center, it was everything I had imagined it to be. The exhibit captures the slice of time perfectly, and it was amazing to see the artwork in person.
There were robotic lamps, life-like automations, a Steampunk motorcycle, and even a deer head wearing a gas mask.
Honestly, it felt like I was in some kind of alternate realm of awesome. /
For you skaters out there, they had some pretty sick Steampunk skate decks hanging on the walls too. I was thoroughly impressed. I wanted to buy one, and I don't even skateboard.
Shout out to the artists and Ferris students that contributed to the exhibit. It is so beautiful and shows true talent.
I could sit here and describe Steampunk and the exhibit for you, but even I couldn't do it justice.
If you get a chance, seriously, check out the exhibit. Nothing will entice you with imaginative wonder like the Steampunk artwork featured in the exhibit. If what you see doesn't peak your interest, then nothing will.