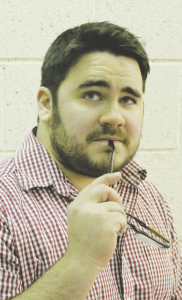 Beginning on March 26, FSU Theater will be debuting a series of one-act plays titled Love, Life & Death. The Torch sat down with journalism senior and one of the playwrights, Ben Rettinhouse to get the scoop.
Torch: How did you first get the opportunity or idea to write a play for FSU Theater?
Rettinhouse: Well, I basically begged. I was dating the stage manager for last year's spring play, Ajax in Iraq, and being a part of that show inspired me to want to try my hand at dramatic writing. Originally, I was going to submit a full length play for consideration, but the head of the theatre program Katherine LaPietra is on sabbatical this semester, so the show is student-directed. I wrote a short play instead. It was more manageable. There was a lot of "can I please?" and "I don't think so," before they finally talked me down to writing a shorter piece.
Torch: Tell us as much as you can about the plot of the play you wrote.
Rettinhouse: The piece is called The Symposium, based off a dialogue of the same name by Plato, one of the most influential thinkers in both my life and the history of well…everything. If I had to categorize it, I guess I'd call it a love story, but it's more like a "falling out of love" story. The plot entails a bunch of drunk friends at a party discussing what love is and, more importantly, what love isn't.
Torch: What genre would you say the play is? It sounds like it could have some elements of comedy.
Rettinhouse: Well, right now it's a comedy. That might change depending on whether or not the audience laughs at it.
Torch: Is this the first time you've written a play?
Rettinhouse: Yes, but hopefully not the last! I'm working on another actually, so hopefully that goes somewhere.
Torch: What do you like most about writing plays in general?
Rettinhouse: I love writing dialogue. I find I'm really good at it. I enjoy injecting voice into a character.
Torch: Is there anything you dislike about it?
Rettinhouse: Well, the creative process is always a little frustrating, but I wouldn't say I dislike it. If I disliked anything about play writing, I wouldn't do it.
Torch: Were you involved in the casting for your play?
Rettinhouse: Nope. The director, Corey Nichols, had complete control over that.
Torch: Have you attended rehearsals?
Rettinhouse: I have gone to a few.
Torch: How was the experience watching your play come to life?
Rettinhouse: The experience has been a mix of excitement and terror. I think the hardest thing about it is accepting that I have to let Corey and the cast do their thing and interpret the show in their own way. Being hands off has been a struggle, so I'd like to take this opportunity to apologize to all of them for probably being a nightmare to deal with.
Torch: Why do you think this play will be relatable to college students?
Rettinhouse: Well, it was written by a college student, and I think love and heartbreak, and the copious consumption of alcohol is something all students can relate to on some level. This is the only time in our lives when we can afford to fuck around and think about things like that on a consistent basis.
Torch: You mentioned that the play was based on Plato's Symposium. Can you elaborate on your inspiration?
Rettinhouse: Well, I came into college intending to study philosophy until I decided I wanted to get a job after graduation. The Symposium was an inspiration for the plot. I think reading plays by other authors is what really helped inspire me to sit down and write it.
Torch: How long did it take you to write it?
Rettinhouse: About four hours to write it, and a week to edit it.
Torch: You originally said that you wanted to write a full length play. Looking back, do you think that it's better you started off with a shorter one-act play or would you still rather have had the chance to go all out?
Rettinhouse: I would have been so lost trying to write a full length show. I think building up my skill as a playwright was something that needed to happen before I could take on the challenge of writing something two or three hours long.
Torch: Is that something we might see from you in the future if the director permitted it?
Rettinhouse: Well, I graduate in May, but I'd be willing to collaborate post-graduation absolutely.