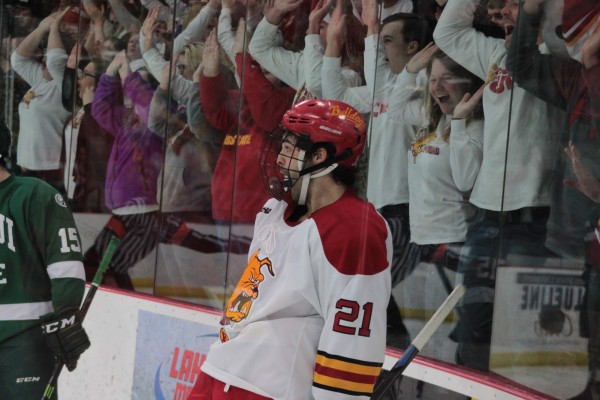 The Ferris State Bulldogs tied the Bemidji State Beavers in an overtime thriller 1-1 on Senior Night.
Ferris can still get home ice in the playoffs. If Ferris were to sweep Lake Superior State this upcoming weekend and both Bemidji State and Northern Michigan are swept, Ferris owns the tiebreaker with the Beavers and would receive home ice.
Bemidji State hosts nationally ranked no. 2 Minnesota State, while Northern Michigan has a home-and-home series with nationally ranked no. 4 Michigan Tech. Michigan Tech and Minnesota State are fighting for the WCHA regular season title, which Minnesota State lost on the last weekend of the season last year.
Bemidji State Forward #14 Kyle Bauman scored the game's first goal 6:20 into the second period. It was his eighth on the season; Nate Arentz and Gerry Fitzgerald assisted him.
The Dawgs started to play with a purpose in the 3rd period, evening the score on a goal by senior forward Justin Buzzeo with 11:37 remaining in the period.  The Bulldogs had opportunities to win the game in regulation, including a late power play, but were unable to convert.
Both sides fought hard in the overtime period, but neither was able to score and win the game. The tie puts the Bulldogs at 14-19-2 for the season and the Beavers went to 15-14-5.
Bemidji State Goalie Michael Bitzer was a brick wall for most of the contest, racking up an impressive 41 saves.
The spirited home crowd of 2,490 regaled the six seniors, Travis White, Jason Binkley, Justin Buzzeo, Dom Panetta, Simon Denis, and C.J Motte with a standing ovation before the game. The Senior Night celebration included summaries of each player's accomplishments as a Bulldog while they stood at center ice. This was one of the most successful classes in Ferris State hockey history, including a national championship appearance, a WCHA championship, and coming within one win of the Frozen Four last year.
The seniors played well, with Justin Buzzeo registering the Bulldogs lone goal and Motte turning in his typical strong performance.
Injuries devastated the team throughout the season. Hopes are high for next year as the teams top two point scorers, Junior Matt Robertson and Sophomore Gerald Mayhew, are both returning.
The Bulldogs will have to play well next weekend against Lake Superior State to secure home ice advantage in the WCHA playoffs. Lake Superior State is fighting Ferris in the final weekend for the second consecutive year. The Lakers were eliminated from playoff contention by Ferris in the last weekend of the 2013-14 regular season.