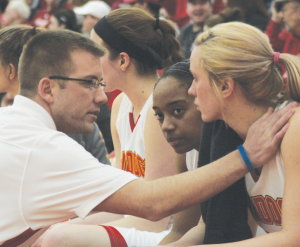 After a 104-73 loss to Grand  Valley State last Thursday, the Bulldogs finished off the season with an overall record of 11-14, and a conference record of 9-13. Unfortunately for the Dawgs, their record wasn't quite good enough to earn them a spot in the Great Lakes Intercollegiate Athletic Conference Tournament this year.
The last time Ferris made it to the conference tournament was the 2012-2013 season. During that season, senior guard Destiney Robinson was only a sophomore.
"We didn't meet our expectations this year unfortunately. We didn't make the tournament so that really sucked," said Robinson.
Robinson is one of six seniors that will not be returning to play for the Bulldogs next year.
When asked what her favorite memory of playing at Ferris was, she said, "My best memory is playing at Notre Dame. Although we didn't win, the experience we had was fun, both on and off the court there."
With the team graduating six players, they will have to depend on some younger talent to take over next season. The next season will be a challenge for the Bulldogs, but the team will practice hard in the offseason to come back stronger next year.
"I'm a senior so I'm done now, but in the offseason we work out five times a week. Whether we're doing skill work or in the weight room, we're working hard every day." said Robinson
The Bulldogs finished the season averaging 64.9 points per game and shot 40.6 percent from the field as a team. Katie Mavis and Christina Branch led the Bulldogs in points per game on the season, averaging 11.5 and 11.7 ppg.
Both Mavis and Branch will be returning next season, and will likely be looked to as team leaders once again next season.