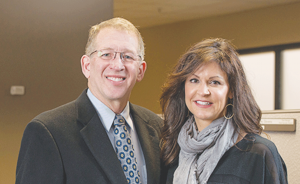 Ferris announced last week that Phil and Jocelyn Hagerman donated $5 million to the College of Pharmacy through their Hagerman Foundation. Phil Hagerman, a Ferris alumnus, is the chief executive officer of Diplomat Pharmacy, Inc.
"It's not often that that sum of money gets donated to one particular institution, so it's definitely quite a gift," said Adam Jandura, a sophomore pre-pharmacy student from St. Clair, Michigan.
The Hagermans' donation will fund two scholarships in the family name: the Hagerman Family Endowed Scholarship in Pharmacy and the Hagerman Family Pharmacy Scholarship Fund. Additionally, the gift will fund the Hagerman Endowed Chair for Medical Informatics, a new faculty chair.
"This is a symbol of our commitment to education and our commitment to Ferris," said Phil Hagerman. "We want to make sure that the pharmacy industry recognizes what an important part Ferris has been in my personal success, my family's success and in the growth of our company, Diplomat."
This $5 million is the largest-ever outright donation to Ferris. In honor of the gift, Ferris is renaming its current pharmacy facility the "Hagerman Pharmacy Building." Ferris, Wayne State University and University of Michigan have the only pharmacy schools in Michigan.
"For years to come, our entire pharmacy community will enjoy the opportunity to learn and work in the Hagerman Pharmacy Building," said Ferris President David Eisler.
The Hagerman family has a long history with Ferris, with Phil's father Dale, sister Deborah and daughter Jennifer having graduated from Ferris.
Similarly, Jenna Matelske is of the fourth generation in her family to study pharmacy at Ferris. Hailing from South Lyon, Michigan, Matelske is currently in pre-pharmacy and will start pharmacy school this fall.
"Since I enjoy science and have grown up around pharmacy, it is the perfect field for me," said Matelske. "The Ferris pharmacy community and reputation are so great, there was never any other school for my pharmacy career."
"We want to support education across the state of Michigan, but we also want to bring the best and brightest people from around the country to a school we believe in," said Phil.
In January, the Hagerman family gave a $2 million endowment to University of Michigan-Flint's School of Management. The endowment will create a scholarship as well as a new business center, the "Hagerman Center for Entrepreneurship and Innovation."
Stephen Durst, Dean of the College of Pharmacy, commented on the opportunities that the Hagerman family is providing students.
"Through this leadership-level gift to the College of Pharmacy, Phil and Jocelyn Hagerman will be enhancing opportunities for students with the introduction of a transformative scholarship program, expanding curricular options through support of program development and ensuring students are educated in state-of-the-art facilities," said Durst.