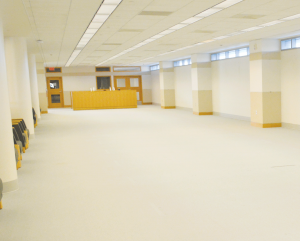 FLITE's assessment committee is seeking student input to create a new, appealing study space on its second floor. Sometime in the next month, students can expect to try out a variety of different furnishings to help the library design the perfect space.
"What we're hoping to do is create new spaces," said Gary Maixner, Emerging Technologies Librarian and leader of the project, "and that's a little bit of a nebulous term, I understand, but what that really means is, if you arrange furniture in a certain way, the space is more conducive to silent reading, or if you arrange furniture in a way over here, then it might be conducive to collaboration."
Some time between mid-March and early April, the library will be renting a variety of furnishings from four different companies, which students will be able to try out. The committee is hoping to purchase the chosen furniture some time over the summer, so that the new and improved second floor will be completed by the start of the fall semester.
"What we're hoping to do is what we've kind of dubbed as a furniture petting zoo," Maixner said. "We're wanting to do some real analysis of how students use it. We've been working on a survey to give to students from the checkout desk. It will be online, so they can log in any time. We also have some plans to try to get a big table with a print-out of the second floor map and pictures of the furniture that are to-scale that students can rearrange and take a picture with their smartphone to show exactly how they want it laid out, which I think would make for a very fun and interactive kind of experience."
Another factor in the redesign of the second floor is acoustics, creating the perfect balance between noise and quiet to help students concentrate. Some of the options the committee is looking into are a white noise machine or a sound cloud, which is a series of panels on the ceiling designed to absorb sound.
Some of the furniture pieces the committee are considering include moveable whiteboards that students can write on or position to create private study areas, four-way chairs, sound-muffling moveable panels and smart boards. A smart board is like a TV monitor, which a group of students can plug their laptops or tablets into and have access to the same screen. Much of the library's current furniture is becoming outdated, such as long tables and chairs, which were more popular before most students owned laptops, so these new furnishings will cater to a more modern student population.
"I believe that our library should be the students' library first and foremost," said Scott Garrison, Dean of FLITE. "What that means will change over time, and it is our responsibility to Ferris State University's students to respond to their needs and expectations as those things change. We need to work with students to continually refresh and reimagine other spaces in ways that help them do what they need to do as students."
The idea of a redesign of the second floor was conceived after the library's periodicals, which are printed publications like magazines and newspapers, were moved from the second floor to the lower level last semester. Librarian David Scott headed this project.
"A lot of library publications have moved to electronic," Scott said, "and as such, our print subscription footprint has really, really dwindled over the past few years. We probably have half as many subscriptions—maybe less—than we used to, so the collection wasn't growing very fast. "
With the periodicals relocated, the library's next concern was what to do with the newly emptied second floor. Thus, the furniture project was born.
"What it really is," Maixner said, "is creating space here at the library that students want to take up."
The second floor furniture project is only the beginning. According to Garrison, there are preliminary plans to rethink the setup of the first and third floors, as well as the lower level. FLITE is also considering housing more "building partner units," like Media Production and the Office of Multicultural Services that currently reside in the library.
"In this way, we could move from the early 2000s concept of the 'information commons' that we have now to a more current 'learning commons' concept that many other colleges and universities around the country are using in their libraries," Garrison said.
"I'd just like to say I'm really looking forward to this new furniture," Scott said. "I know our seating hasn't probably been the most desirable, because the planning stages for this library are from 16 or 17 years ago."