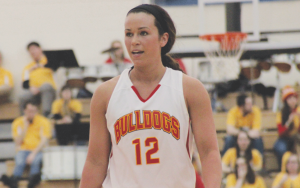 As the buzzer sounded on a disappointing loss to Grand Valley State in the season finale, Junior guard Katie Mavis chose to take the positive out of the defeat, and use it as competitive fuel for next year.
"This last loss we had getting beat by Grand Valley by 30 points was so embarrassing, so we'll definitely have lots of motivation." Mavis said.
The Bulldogs will look to rebound next season after finishing 11-14 this year. The team will return its top three scorers from this season, in Mavis, Junior Christina Branch, and Sophomore Ally Christman.
One of the Mavis' favorite parts about the team is the relationships off the court, which only adds to the team's chemistry on the court.
"We're so close on and off the court and that really helps on the basketball court because we trust each other and we would do anything for each other out there," says Mavis.
Next year Mavis will be a fifth year senior and the captain of the team, which is something that would have seemed easy to predict considering how accomplished she was as a high school player. However, when she first got to Ferris she was surprised to learn that she would be redshirting her first year. Yet, as with the loss to Grand Valley, Mavis took the disappointment of redshirting in stride and made the most of it.
"My first year here was definitely a growing year. I came in not knowing I was going to be redshirted. That helped me grow a lot; I got to work on my own skills," says Mavis. "I got a lot stronger and more confident in myself which helped me a ton going into my second year when I actually got to play."
Mavis' hard working attitude has not gone unnoticed by her teammates and coaches.
"She gives me and other people a lot of motivation, not even just in regards to basketball. She shows that if you keep a positive attitude and continue to work hard things will work out in your favor," sophomore guard Emily Evans said.
Descriptions of leaders like that make up a coach's dream, and the closeness of the team is sure to help the Bulldogs improve next season.
Still though, the losses of this season are hard to forget, especially with other teams in the GLIAC getting ready for the postseason.
"I really wish we were playing another week. Especially because this year and last year we were just one or two games away from that (GLIAC postseason tournament) and that will definitely be fuel for next year."
The Bulldogs have suffered a couple of down years after going 23-7 in the 2011-2012 season, but confidence is high for next season, in no small part due to Mavis' leadership.
"I credit that a lot to the seniors that were here my first year. They were amazing leaders and being around such positive and great influences has helped me grow and become the leader I am today."
With strong leadership at the helm and a core group with years of experience playing together, hopes are high for next season, and Mavis stated her goal for the team plainly.
"… Making and winning the tournament," Mavis said.
Those are lofty expectations considering the Bulldogs have not qualified for the tournament since that 2011-2012 season, but with Mavis at the helm they have reason to be optimistic.