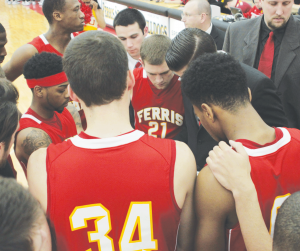 The Ferris State men's basketball team will begin their run in the GLIAC Tournament Wednesday at 7:00 p.m. in Big Rapids.
The Bulldogs were given the number three seed in the tournament and will take on the number six seed Ashland University Eagles at Wink Arena in the first round of the Great Lakes Intercollegiate Athletic Conference Tournament.
Ferris finished the regular season with a 20-8 record overall, and a 16-6 conference record. The Dawgs finished off the regular season with two consecutive wins against conference opponents. The team beat the Saginaw Valley State Cardinals, who are the number four seed in the tournament, 78-72 two Saturdays ago.
The Dawgs also beat Grand Valley State in commanding fashion last Thursday as they sunk the Lakers 77-55 to end regular season play.
The Dawgs take on a 19-9 Ashland team for the second time this year on Wednesday. At the previous meeting between the two teams, Ferris traveled to Ohio and beat the Eagles 66-57 back in early December. In that game, senior guard Drew Lehman scored 26 points to lift the Bulldogs to a win.
If the Bulldogs were to win Wednesday, they would play the winner of the number two seed Michigan Tech Huskies and the number seven seed Walsh University Cavaliers match-up on Saturday. If Michigan Tech were to win that game, the Bulldogs would travel to Houghton to take on the Huskies, but if Walsh were to win, the Dawgs would host a second game in Wink Arena as the Cavaliers would have to make a trip to Big Rapids.
The Dawgs split with Michigan Tech this year, beating the Huskies 63-51 in January and falling in a 68-60 loss in early February. Ferris beat Walsh University 77-62 in a match-up earlier in the season.
The last time the Bulldogs made it to the GLIAC Tournament was during the 2012-2013 season where they fell in the first round to the Findlay University Oilers in a 62-55 loss. This year, the Dawgs will be hoping to replicate their win streak from earlier in the season, and roll through the tournament.