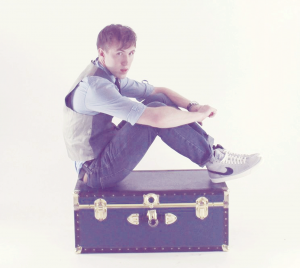 Entertainment Unlimited is not letting up this semester when it comes to, well, entertainment.
On March 3, EU brought 22 year old entertainer and YouTube sensation Preston Leatherman to Ferris.
"We found [Leatherman] when we went to the National Association for Campus Activities (NACA) back in November," music industry management junior and programming coordinator for EU Rachel Bernstein said. "Everyone in the audience, including ourselves, seemed very entertained by his performance and stage presence."
Leatherman is a singer, songwriter, dancer, and comedian all wrapped in one goofy package.
"We liked him immediately for his crowd interaction and enthusiasm," music industry management senior and communications and EU co-sponsorship coordinator Alex Finta said.
MTV described Leatherman as the child of Jason Mraz and Maroon 5, and the godson of Michael Jackson.
"I think Preston's music is exciting and fun to listen to," Bernstein said. "It gets the audience singing along and helps create an enjoyable experience."
With the hype of Ferris Fest on the rise, EU brought students a more intimate, personal show from Leatherman held in the University Center stage lounge.
According to Bernstein, the audience should expect to hear and see some looping done during his performance, along with a mix of covers and original songs.
"I also am pretty unique in how I approach the musical side of it," Leatherman said. "I use a combination of keyboards, guitars, iPads, loop pedals, and vocal processors to get a full band sound all by myself. A lot of times, people are super surprised that there is only one person playing when they see the setup. And then I walk up and I'm like…'whaddup.'"
Leatherman plays a variety of instruments including piano, guitar, bass, and drums. He attributes his biggest influence to that of Eric Hutchinson, Gavin Degraw, Elton John, Maroon 5, and The Fray.
A moment of pure inspiration occurred when Leatherman saw Eric Hutchinson open for One Republic at a small club in Houston, Texas a few years back.
"He came out, just him and two other guys, and just put on one of the best shows I've ever seen," Leatherman said. "The way he interacted with the audience and told stories, it seemed like I was at more of a comedy show than a concert, and I walked out of that show way bigger of an Eric Hutchinson fan than a One Republic fan. I knew after that, and the way he worked the crowd, that was something I wanted to do and give that same feeling to other people."
Along with meeting awesome people all over the country, Leatherman was reminded of one of the most rewarding aspects of his career just a few days ago.
Leatherman received a message from a fan who has been following him for a few years that proved to be a perfect example of why he does what he does.
"I've never met this person and they've never seen me play, but they sent me this Facebook message just saying how much they appreciate my music and realize all the hard work I put into everything I make," Leatherman said. "That was really cool. All the shows I play, all the miles I travel, all the hours I spend on producing tracks for people to listen to, it makes it all worth it when you realize it really affects people and makes them feel good."