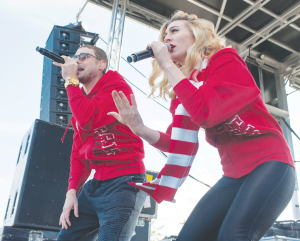 Ferris Pharmacy major Josh Hendrickson hasn't heard of either Mayer Hawthorne or Big K.R.I.T., and he's not alone.
Ferris Fest headliners were announced last week, and though the rumors were that of Soulja Boy and Ed Sheeran, the headliners were actually announced as Big K.R.I.T. and Mayer Hawthorne. Both performers will be on campus April 25 for the annual Ferris Fest concert, sponsored by Entertainment Unlimited.
Students were confused by the announcement of the Mississippi rapper and Michigan singer.
Upon the announcement, Danielle Metts, a junior in the biology program, was confused by the selection. "I said, 'who's that?' I had never even heard of them."
Hedrickson agreed. "I thought for sure we would get someone that was a little more well known," said the second-year pharmacy major.
"I was confused, especially since I heard rumors about other performers coming. I have no idea who either of them are," said Ferris student Kaitlyn Baase. "I'm sure there are others who feel the same way I do, but you are never going to be able to make everyone happy, no matter who you pick to perform. It's just impossible."
Nonetheless, students are still eager for Ferris Fest.
"Regardless, I'll still go out to Ferris Fest and check them out," said Baase, a senior in the public relations program. "To me, it's not necessarily about the performers; it's more about the overall experience."
"I haven't looked into the performers to see if they sound good. I guess it doesn't really make me mad that it's not a big name," said Hendrickson. "I understand that it's hard to bring big names in."
Ferris Fest student chair, Lola Schultz, a junior in the music industry management program is excited for the performances. "I'm thrilled to host Mayer Hawthorne and Big K.R.I.T. for this year's Ferris Fest," Schultz said. "We are really lucky to host such a huge event that brings people from all over Michigan to Ferris for a weekend. Not many colleges can say they put on an event like Ferris Fest."
Each year, Entertainment Unlimited brings new artists to perform. Last year, Ferris Fest was held in the intermural fields but this year the headliners will be in the north quad.
"I prefer it in the north quad mainly because it is more in the center of campus," said Baase. "Last year I felt like it was in the middle of nowhere."
Ferris Fest, taking place April 25, is a nice preview to the upcoming summer months and offers students a chance to unwind before finals.
"I just hope it's warm!" said Metts.
Hendrickson agreed, "Hopefully we don't still have snow".
"It's always exciting to have Ferris Fest around the end of April. It makes it feel like a big celebration for almost being done with the semester," said Baase.
Ferris Fest will take place on the campus quad by the new University Center.