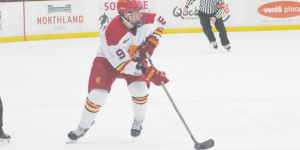 Following a thrilling triple overtime victory that sealed the series for the Bulldogs against Bemidji State, the Dawgs will head to St. Paul, Minnesota to clash with No. 2 Minnesota State and other surviving WCHA powerhouses.
The Bulldogs were the only travelling team and underdog able to advance to the WCHA Final Five, which will take place this weekend and will decide the conference champion.
In addition to potentially hanging another banner in Ewigleben Arena, the Bulldogs could also earn themselves an automatic bid into the NCAA Tournament with a pair of wins against top-tier WCHA talent this weekend.
The Bulldogs have already met with Minnesota State four times this season, all of which ended in the Mavericks favor.
When the Bulldogs hosted the Mavericks back in early January, Minnesota State held the Dawgs to just one goal in both games, winning 2-1 followed by 3-1.
Just two weeks later, the Bulldogs travelled to play the Mavericks and were once again restricted to a single goal in both matchups. The Mavericks took both games in the series 5-1.
Ferris State will face a similar environment as they did when playing at MSU this weekend. Droves of Maverick fans are likely to crowd the Xcel Energy Center, as the tournament is being held less than 100 miles from the Verizon Wireless Center, which the Mavericks call home.
Though previous meetings saw the Bulldogs struggle, Ferris State has been hammering down the throttle at the right time of the season, as they've gone 7-1-1 in their past nine games.
If the Bulldogs were to advance past Minnesota State, they would take on the victor of the Michigan Tech and Bowling Green game for the conference championship.
Ferris State will begin their weekend against Minnesota State on March 20. The puck will drop at 8:37 p.m. in St. Paul, Minn.