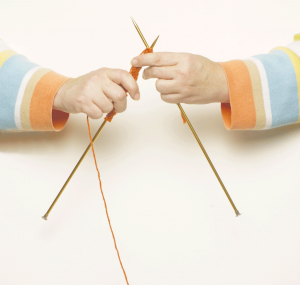 Among the many hidden gems that are Ferris student organizations lies one of the most creative and giving of all.
"Crafters Anonymous was started by a couple of crafty students who wanted to use their artistic ability to give back to the community," Alicia Gotz, co-president of the RSO and pre-nursing sophomore said. "The reason that we craft is to relieve stress and to express ourselves. Crafters Anonymous makes this easy and we get to do what we love with people who share the same love."
According to Gotz, Crafters Anonymous is a non-profit organization. Along with sharing the love of crafting, its members share their love to the community because the money the members raise from selling their crafts goes back to the community.
"We make the crafts and sell them during our craft sales in the University Center, and we donate the money to different organizations such as United Way or Relay for Life," said Gotz.
Crafters Anonymous co-president and architecture sophomore Elaine Munn feels that there are some misconceptions about the organization.
"While most people think we are a knitting RSO, we are not," Munn said. "Although we do teach knitting and crocheting if requested, we often hold craft events where we make absolutely everything,"
As well as donating their crafts, the members donate their time to the community. Crafters Anonymous works with the Department of Human Services (DHS).
"If it is close to Christmas or Easter, we use the funds to buy craft supplies to host holiday parties for the local foster children," Gotz said. "My favorite memories are from last year's Easter party. Seeing how happy the crafts and egg hunt made the children truly made me happy. Every event we have with the foster children is always the highlight of my semester and seeing their smiles makes all the stress of organizing it worth it."
According to general member of the RSO and pre-pharmacy freshman Brandi Brant, you don't need to have any skill to join.
"We craft because it is something that we love to do," Brant said. "To be a part of Crafters Anonymous, your abilities can be at any level. We would love to teach you how to knit or crochet, people join because it is always a good time."
While Crafters Anonymous may not have the funds to host big events besides craft shows, however they still like to participate and be known around campus.
"If you ever see trees looking like their wearing yarn sweaters, we were there," Munn said.
According to Gotz, their next event is their Easter holiday party in Reed City on March 31 for foster children. The event is organized with DHS and foster parents join them to make simple crafts and an Easter egg hunt while also enjoying dinner. They help host at least one DHS affiliated craft party each semester.
The group meets every Tuesday night at 9 p.m. in the University Center room 213.