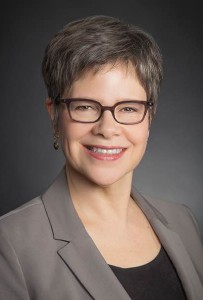 Leslie Bellavance has been named Kendall College of Art and Design's new president. Bellavance will replace interim president Oliver Evans officially on July 1.
The search for a new Kendall president began after the unexpected resignation of David Rosen in April of 2014. Oliver Evans served as president for 18 years prior to Rosen.
"We are pleased and excited to welcome Leslie Bellavance as the next president of Kendall College of Art and Design," said Ferris President David Eisler. "She brings a national reputation, a depth of higher education experience and an appreciation for the Kendall mission of preparing students for careers and leadership positions in a wide range of art and design fields. She has both the background and skills to help advance not just Kendall, but the broader arts and design community in Michigan."
Bellavance currently serves as dean and director of graduate programs at the School of Art and Design at Alfred University's New York State College of Ceramics. Bellavance received a Bachelor of Fine Arts degree summa cum laude from Tyler School of Art at Temple University in Philadelphia as well as a Master of Fine Arts degree from the University of Chicago. She is an artist whose work has been exhibited across the U.S. and Europe. Bellavance is also a published author, penning 1997's "Analemmic: An Equation of Time."
Bellavance was eligible with four other candidates and chosen by a presidential search committee, headed by Ron Ricksen, Kendall's interim academic dean, and Cindy Todd, art education program chair. The committee was comprised of 12 Kendall faculty and three Grand Rapids community members.
"Kendall College of Art and Design has the key features of a contemporary art and design school that provides immediate and relevant learning experiences to students that also serve them into their career lives," Bellavance said. "These include a curriculum that engenders individualized accomplishment and engagement in community interactions. The growth of Kendall College of Art and Design as a school and as a cultural force in the city of Grand Rapids is incredibly exciting."
Ferris acquired Kendall in 2000-2001 academic year and enrollment has since climbed to 1,438 as of fall 2014. For more information on Kendall College of Art and Design, visit kcad.edu.