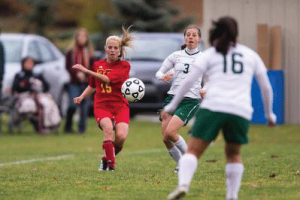 The Ferris State women's soccer team is getting some out of season experience as they begin their spring schedule.
After a 3-1 loss to Spring Arbor University last Saturday, the team has six more exhibition games scheduled in the spring season. With a 6-10-2 record to finish off last season, the Dawgs are doing their best during their time off to prepare for the tough fall season to roll around once again.
"We're trying to work on our defense, so we're trying to minimize the goals against because in the fall we struggled a little bit with that," said senior midfielder Abby Meirndorf, "I think we need to work on just gelling as a team, because we lost four seniors that were very crucial to our starting squad. So integrating the younger players and getting that going for the fall is important."
With the departure of the four seniors, the Dawgs will be counting on young talent to fill some spots for the team. Meirndorf said sophomores Audrey Romine, Brenna Cockerill, Rachel Fouts, and Hilerie Schatzle among others are all going to be crucial young contributors to the team this season.
With the regular season not starting until the fall, the Dawgs are happy to get out of the gym and take their skills to the pitch.
"It's nice [to get outside] because we've been going since the second week of school, and we've been inside on the basketball courts. It's nice to get outside and actually take your anger out on someone else and not each other," Meirndorf said.
Junior defender Meredith Smith also sees exhibition action in the spring as an advantage for the team, for a variety of reasons.
"It is nice to get some games in because we can get an idea on how our team is going to be in the following fall season and get a feel for different people in different positions after losing our seniors," said Smith.
The team's next exhibition matchup will be at home against the Division I Saint Francis University Red Flash on April 11 at 5 p.m.