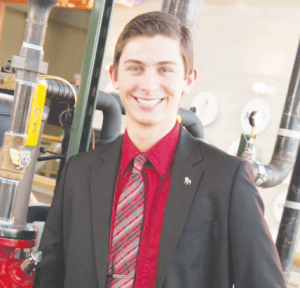 Wayne Bersano, 19-year-old hotel and restaurant management sophomore from Pinconning, MI, is running for Student Government President.
Bersano came to Ferris because of the phenomenal hospitality program here.
"I attended a Dawg Days and instantly felt a close connection with the campus and program, Bersano said. "I wanted to find a welcoming and close-knit campus, which is exactly what I saw Ferris to be after sitting down and talking with a professor from the Hospitality Program."
He wanted to attend a school that was large enough to have multiple student organizations, but small enough that he would still see familiar faces.
"There are many opportunities to get involved, which is something I need during my college career," said Bersano.
Bersano began his involvement with Student Government as Co-Events Committee head. According to Bersano, this is an internal committee of Student Government that allowed him to successfully lead and direct many events, such as Pancakes with the President.
In addition to being Co-Events Committee head, he was a member of the Internal Assessment Division.
"This committee oversees the new member process, elections, member reviews, and many other internal processes," Bersano said. "Towards the end of my freshman year, I was appointed to be the Director of Internal Assessment for the following school year.
The Vice President position became available and he was promoted to this position due to his past experiences, dedication, and support of Student Government.
"I am currently the Vice President of the Hospitality Management Student Association and the Volunteer Chair and Precollege Outreach Chair for the National Society of Minorities in Hospitality. I am also a member of the Student Leadership and Activities Advisory Council, AISEC, Colleges Against Cancer, and am an Honors Program Peer Mentor," said Bersano.
This upcoming year Bersano would like to focus on collaboration, diversity, and leadership.
"First, specifying on collaboration, I would like to create more opportunities for different RSOs on campus to work together, as well as encourage partnership between groups," said Bersano. "When you have a large number of students working together, it creates improved programming and a better culture on campus."
Through diversity, Bersano would like to ensure that more student groups are represented in Student Government.
"This includes more minorities, allowing our governing body to become more reflective of its student population. Everyone's voice and opinions should matter on this campus and Student Government should be the central entity where those voices get heard," said Bersano.
His final focus is leadership. This year, Student Government held an event called the Leadership Dinner and Bersano would like to ensure that the event continues and grows for years to come.
According to Bersano, with each president come new goals and initiatives for the year, allowing each term to be more innovative and unique from the next.
"One goal of mine is to create a five year plan for Student Government, similar to Ferris's Campus Master Plan, said Bersano. "I would like to work with as many student groups as possible and figure out what students would like to see changed on campus. Then, a team of students could work together to create a five-year plan for Student Government to commit to and accomplish."
According to Bersano, with this plan in place, larger tasks can be accomplished and each year new leadership and students are still working together for a common goal. This will establish a consistency among school years that has not been seen in the past.
"If there was one word to describe Wayne, it would be reliable," Chauntel Wooten, a senior dual majoring in accounting and finance and the Director of Internal Assessment in Student Government, said. "I believe that Wayne would be an amazing Student Government President because he is dedicated to doing the most appropriate deeds necessary for the Ferris and Big Rapids community. His integrity and trustworthiness, along with his passion for success, is admirable."
According to Wooten, Bersano doesn't just want to represent Ferris students; he wants to represent administrative staff, professors, and the Big Rapids community. He doesn't want to limit himself; he wishes to expand his goals, so that they can impact as many individuals as he possibly can. Bersano wants to be able to connect more with each one of the organizations on campus.
"This may seem difficult, but with his ambition, I believe that it can be accomplished. I'd like to say that I'd be honored to be alongside him with any assistance," said Wooten.