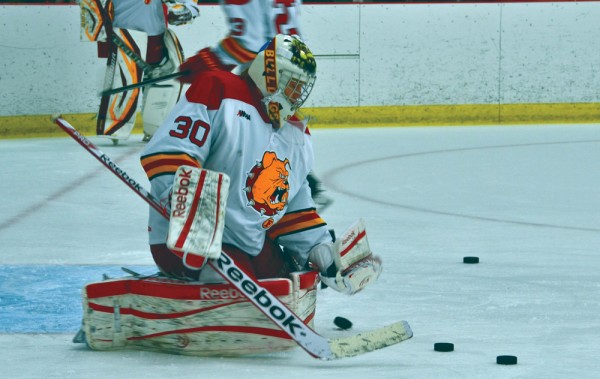 Just as the ink was drying on defenseman Jason Binkley's contract, CJ Motte, the all-time leader in wins between the pipes for Ferris State hockey, also pledged to take his talents to the professional ranks.
Motte, a St. Clair, Mich. native is headed to Connecticut to show what he can do for the Bridgeport Sound Tigers, the American Hockey League (AHL) affiliate for the New York Islanders of the NHL. Motte signed for the rest of the 2014-2015 season for the Sound Tigers who currently hold a record of 24-33-6.
The team reassigned goalie Kent Simpson to the East Coast Hockey League (ECHL) to create roster room for Motte. Motte will be alongside the Sound Tigers goaltender Kevin Poulin who has a 16-17-3 record in net for the team.
Motte posted a 17-19-2 record for the Bulldogs this season before the team fell to Minnesota State in the WCHA final five playoffs. He recorded a 2.13 goals against average, and had a save percentage of .926 during his career at Ferris State. Motte had 66 wins as a Bulldog, with 15 of those wins coming by way of shutout.
In 127 games for Ferris State, Motte stopped 3,394 pucks for the Dawgs. He was a top 10 nominee for the Hobey Baker Award in the 2013-2014 season, an award given to the best player in collegiate hockey. The Sound Tigers could use help of any type as of now as they sit dead last in their division, and third to last in the AHL.
Meanwhile, Binkley signed with the ECHL South Carolina Stingrays, an affiliate of the NHL Washington Capitals and Boston Bruins.
Binkley, who hails from Powell, Ohio, finished his four-year stint with the Bulldogs registering 68 career points on eight goals and 60 assists. The seasoned defenseman also accounted for 174 blocks in his 156 games as a Bulldog.
Binkley is stepping into a bit better of a position, as the Stingrays boast a 39-18-1 overall record which is good for third place in their division.
Both Motte and Binkley will dress for their new teams to close out this season. Though they may no longer wear crimson and gold on the ice, they will always be Bulldogs.