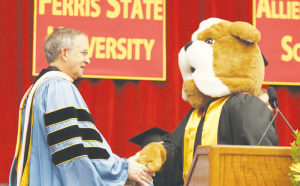 So I just recently learned that a students' average debt at graduation is about $29,000.
Imagine my surprise when I learn that the average Ferris student graduates with $37,000 in debt. And that doesn't include books, housing or any of that stuff.
So I'm left with one question; why the hell am I attending Ferris?
I must be out of my mind going to school here. Did you know that only 17 percent of students get their financial needs met from Ferris? Compared to Saginaw Valley State University's 31 percent and Central Michigan University's 58 percent, Ferris is doing a crappy job.
The only reason I'm going here is because I'm from Big Rapids. I can live with my parents while attending school and save myself some money. Or so I thought.
I did some calculations and if I were to go to CMU and live on campus during my four years, I'd still save more money than living at home and attending Ferris (only about $1,400, but that's still a lot).
Statewide, Ferris is the 30th best college in the state of Michigan. Think that's good? There's only 39 colleges in Michigan.
Now you're probably wondering why you're attending Ferris with all of this negative information I shared. There's a silver lining.
Research shows that graduates from Ferris have a very high employment rate with salaries starting at an average of $50,000 per year. In 2009, the employment rate of graduates was at 93 percent. That's very impressive and comforting.
One of my classes discussed the pros and cons to Ferris. Although many of my fellow classmates thought of the breweries and safety of the campus as pros, nobody mentioned the graduation rates or employment rate.
The faculty at Ferris was something my class mentioned as a pro. I don't know about you, but I haven't met a professor that didn't care about my future. Also, every faculty member I've talked to has had real-world work experience.
I wouldn't know what I wanted to do with my life if it weren't for Ferris. I know it sounds cliché, but it's true. I started out wanting to get a high paying job with no concern with what I really enjoyed. With the help of the career counselors and my professors, I found what made me truly happy: writing.
So it boils down to this. Would you rather save money and have trouble getting a job or would you rather spend more money and be almost guaranteed to get a job after graduation? I don't know about you, but I'm going with the latter.
Sources:
http://learn.org/browseby/company/Ferris_State_University.html
http://www.stateuniversity.com/universities/MI/Ferris_State_University.html
http://www.collegefactual.com/rankings/best-colleges/state/michigan//p3.html