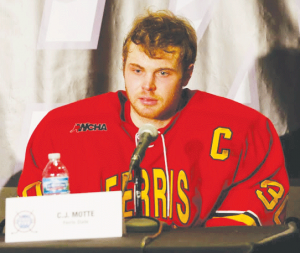 Senior Bulldogs Justin Buzzeo, C.J Motte, and Jason Binkley have all signed professional contracts in the past few weeks, thus taking the next step in their hockey careers.
Motte, a goalie standout who racked up 66 wins over his career at Ferris, has signed with the Bridgeport Sound Tigers of the American Hockey League (AHL) who are affiliated with the NHL team the New York Islanders.
Motte's senior season was not as successful as prior ones, as he posted a 17-19-2 record in the net. However, his Bulldog teammate junior defenseman Simon Denis does not think that will hold him back in the next level.
"CJ is a top-notch goalie, one of the best in the country and has proven that in his four years here," Denis said.
Motte was a top 10 nominee for the Hobey Baker Award for the 2013-2014 season, an award given to the best collegiate player in the country. He is sure to be a welcome addition to the struggling Tigers as they currently sit on a 24-33-6 overall record.
Senior forward Buzzeo took his talents to the Gwinett Gladiators of the East Coast Hockey League (ECHL), where he immediately made an impact scoring once and assisting on another in his first two games for the Gladiators.
Buzzeo, who is 25, hails from Windsor, Ontario and also had his best season for the Bulldogs in 2013-2014, notching 14 goals and 18 assists. The Gladiators, who serve as the affiliate of the NHL's Arizona Coyotes, are also having a tough season and are currently 18-43-6.
Binkley, a durable defenseman who played in nearly every game this season for the Bulldogs, signed with the ECHL South Carolina Stingrays, an affiliate of both the NHL Washington Capitals and Boston Bruins.
Binkley played in 156 games wearing the crimson and gold, and is coming into the best situation by far of the three with the Stingrays being 39-18-1 thus far this season.
Denis' praise did not stop at Motte, as he also acknowledged the positives of his teammates Binkley and Buzzeo.
"Binkley and Buzzeo are two skilled guys who have great work ethic and smarts on the ice that will contribute big time in pro hockey at both ends of the ice," Denis said.
When it comes to preparing its players for the next level, Denis believes that Ferris has a leg up on the competition.
"Our coaches place a sense of work ethic that we believe is stronger than other schools. We know what it takes to win and know we have to work to earn everything we get," Denis said.
With three former players now in the professional ranks, it is clear Ferris State does something right preparing its players for the next level.
Although they have moved on from Ferris State and Wink Arena, these three players made huge contributions to some of the best teams in Ferris hockey history, and are sure to continue their success in Bridgeport, Gwinett and South Carolina.